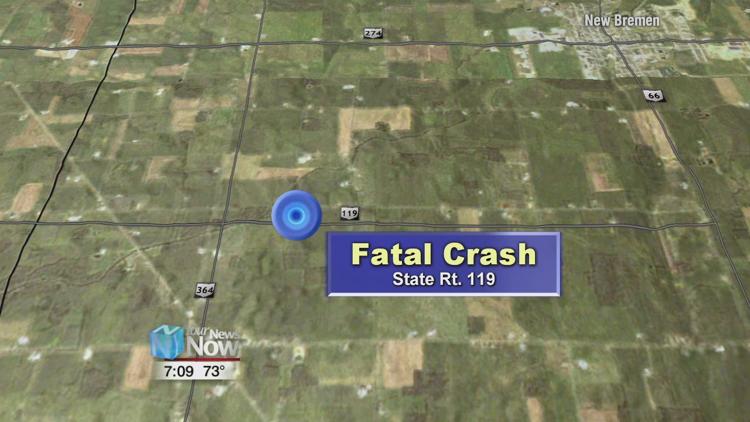 A Mercer County woman was killed in a two-vehicle crash outside of Minster Friday night.
Troopers from the Wapakoneta Ohio State Highway Patrol post say that Amy Reichert, 32 of Maria Stein was heading west on state route 119, when for some reason her vehicle went left of center and into the eastbound lane, hitting 29-year-old Stacy Carr of New Bremen. Reichert was pronounced dead at the scene. Carr was taken to Joint township hospital, then to Miami Valley Hospital as a precaution. It is unknown what her condition is. Troopers say that both women were wearing their seatbelts and alcohol is not a factor. The crash is still under investigation.
Media release from Wapakoneta Ohio State Highway Post 9/28/19:
Wapakoneta Post Investigating a Two Vehicle Fatal Crash on State Route 119 in Auglaize County
Minster Ohio – Troopers from the Wapakoneta Post of the Ohio State Highway Patrol are investigating a fatal crash that occurred Friday, September 27, 2019 at approximately 7:22 p.m. on State Route 119 near mile post 1 in Auglaize County. 
Through the investigation, it was found that a light blue 2009 Chevrolet Cobalt was being driven westbound on State Route 119 by Amy E. Reichert, age 32 of Maria Stein, Ohio.  The Reichert vehicle lost control and traveled into the eastbound lane striking an eastbound black 2005 Pontiac Vibe being driven by Stacy P. Carr, age 29 of New Bremen, Ohio.  Both vehicles sustained severe disabling damage.
Stacy P. Carr was taken by Minster EMS to Joint Township District Memorial Hospital.  Mrs. Carr was then taken by Joint Township District Memorial Hospital EMS to Miami Valley Hospital for precautionary reasons.
Amy E. Reichert was pronounced deceased at the scene by the Minster Fire and EMS personnel and was transported to the Hogenkamp Funeral Home in Minster, Ohio.
Stacey P. Carr was wearing a properly adjusted seatbelt. Amy E. Reichert was wearing a properly adjusted seatbelt.  Alcohol is not suspected in the crash.  The crash remains under investigation.
Next of kin has been notified.