The Allen County SWAT and West Central Ohio Crime Task Force raided a home at 304 Ewing Avenue in Lima late Wednesday afternoon.
Not only did they find several subjects in the home, but they also turned up suspected meth and crack, plus a handgun. During the raid, they also busted two men wanted on unrelated arrest warrants. Benjamin Burton was wanted for failure to appear in Lima Municipal Court. Jesse Arnett had an outstanding warrant from Allen County Common Pleas Court for receiving stolen property.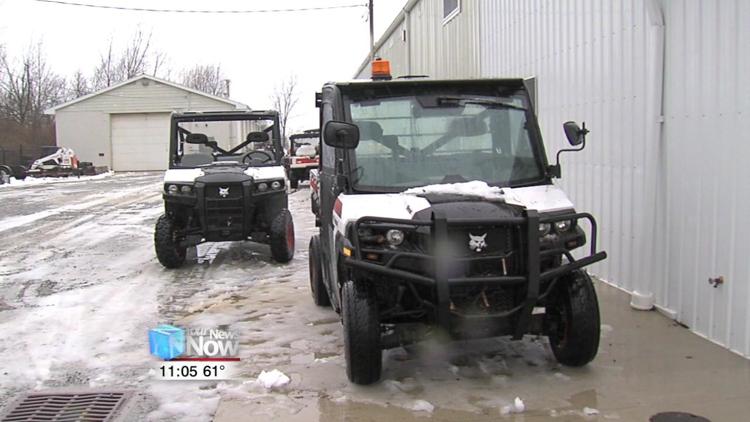 Arnett was one of two suspects in the theft of Gators from Bobcat of Lima back in February of this year. We reported to you at the time, that Arnett and Jeffrey Paxton were caught following the theft. Two of the vehicles were tracked down by police who followed tracks in freshly fallen snow.
The investigation into Thursday's incident continues and will be presented to an Allen County grand jury at a later date.
Media Release from Victoria Gonzalez of the Allen County Sheriff's Office
On April 24, 2019 at approximately 5:30pm the W.C.O.C.T.F, with assistance from the Allen County SWAT team, served a residential search warrant for the address of 304 Ewing Avenue, Lima, Ohio. During the search suspected methamphetamines and crack cocaine were recovered as well as a handgun. Several subjects were located inside the residence, however only two, Jesse Arnett (10-26-79) and Benjamin Burton (2-22-83) both of Lima, Ohio, were arrested at the time, on separate unrelated arrest warrants. Arnett's warrant was out the Allen County Common Pleas Court for Receiving Stolen Property which was related to the theft at Bobcat of Lima in February of this year. Burton had an active failure to appear warrant through Lima Municipal Court. The investigation is still ongoing and will be presented to an Allen County Grand Jury at a later date.