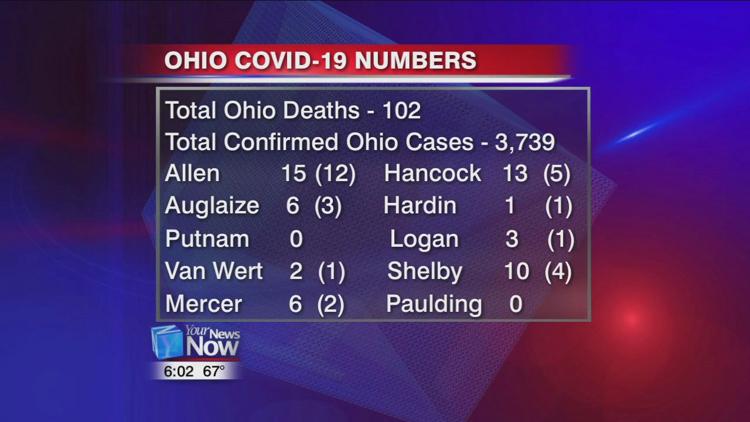 The Ohio Department of Health is reporting 102 COVID-19 deaths and 3,739 confirmed cases on Saturday.  27% of the confirmed cases are hospitalized.   Allen, Hancock, Auglaize and Shelby counties saw increases in confirmed cases and hospitalizations.
 COVID-19 Data as of 2 pm April 4th, 2020.
Source Ohio Department of Health
3,739 Confirmed cases
1006 Hospitalizations
326 of Hospitalizations are in the ICU
102 Reported deaths
Allen County- 15 confirmed cases/ 12 hospitalized
Auglaize County- 6 confirmed cases / 3 hospitalized
Putnam County- No confirmed cases
Van Wert County- 2 confirmed cases/ 1 hospitalized
Mercer County- 6 confirmed cases/ 2 hospitalized/ 1 death
Hancock County- 13 confirmed cases/ 5 hospitalized
Hardin County- 1 confirmed case/ 1 hospitalized
Logan County- 3 confirmed cases/ 1 hospitalized
Shelby County- 10 confirmed cases/ 4 hospitalized
Paulding County- No confirmed cases
The Auglaize County Health Department's Facebook page says their 6 cases are spread out throughout the county.  Health officials want to remind people that there are more cases out there that have not been tested or reported.  So, they urge people if they go out for essential items to go by themselves, not as a group.  Plus continue following the Stay at Home order and social distancing.