The American Red Cross has announced they are in an emergency need for blood donations.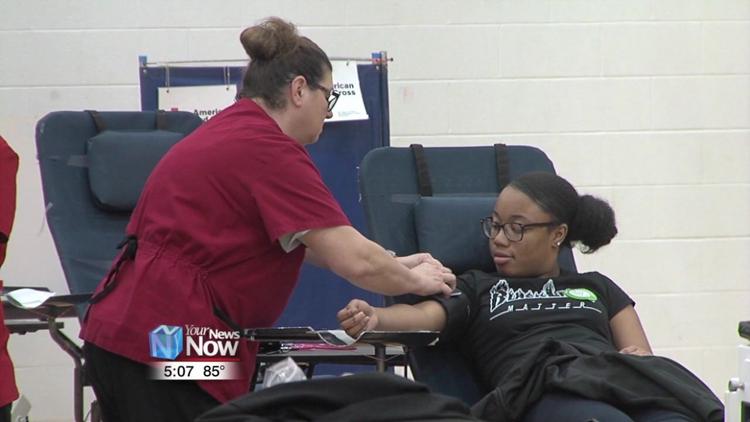 The Red Cross says nationally and locally they have less than a three day supply of blood for patients for most blood types. The Fourth of July holiday led to a drop in blood drives that were organized setting the Red Cross back in units of blood. Now they're asking everyone eligible to donate blood as soon as possible. There are two blood drives scheduled around the Lima area on Thursday. One at Spencerville Nazarene Church (317 W North St, Spencerville, OH 45887) and another at Forest Park United Methodist Church (315 S Collins Ave, Lima, OH 45804).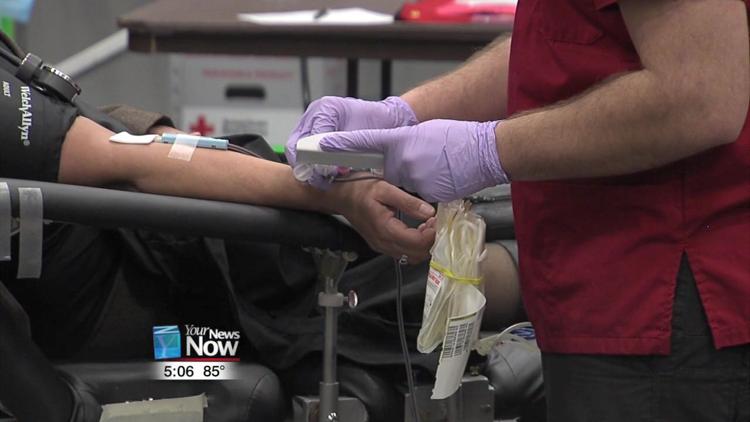 "Summertime is a hard time for us to collect. Everybody's on different schedules, high schools are out of session, and so you know people are on vacation. Donors that normally donate are not at home, they're missing blood drives, and so we need everybody to please try and put it on their calendar and donate blood," said Marianne Hardesty, account manager at Red Cross.
To see a full list of upcoming blood drives you can find the full list below.
Press Release from American Red Cross
Blood emergency: Red Cross issues urgent call
for blood and platelet donors
Less than three-day supply of most blood types;
new and existing donors called to help save lives
FORT WAYNE, Ind. (July 9, 2019) — Following a difficult Fourth of July week for blood and platelet donations and ongoing challenges finding new blood donors, the American Red Cross now faces a blood shortage and has issued an emergency call for eligible individuals of all blood types to give now and prevent delays in medical care.
About 450 fewer blood drives were organized by businesses and other community groups last week than during a typical week as people across the country celebrated the holiday with activities and travel. This led to about 17,000 fewer blood donations than needed for patients in a single week, causing the Red Cross to now have less than a three-day supply of most blood types available – and less than a two-day supply of type O blood – for patients. At least a five-day supply is desired.
 "Medical emergencies and critical treatments don't stop for holiday celebrations. Patients depend on lifesaving blood transfusions every day," said Rodney Wilson, communications manager for Red Cross Indiana Ohio Blood Services. "Right now, the Red Cross only has less than a three-day supply when we need a five-day supply to be prepared for all situations that require blood products."
To help meet this need, the Red Cross has added about 8,000 additional appointments at blood donation centers and community blood drives over the next few weeks to accommodate more donors.  
Missing Types sees encouraging response, but all donors needed now
In June, the Red Cross launched the Missing Types campaign to encourage donors – especially new donors and those who have not donated in the past years – to give blood or platelets during the challenging summer months. Through the campaign, the letters A, B and O – letters that make up the main blood groups – disappeared from popular brands to symbolize what happens when blood goes missing from hospital shelves during blood shortages.
Despite an encouraging response to the campaign, blood donations still fell short of expectations in June, resulting in more than 24,000 fewer donations than needed and causing a significant draw down of the Red Cross blood supply.
"Blood is only available when generous blood and platelet donors roll up a sleeve to give, and right now, all donors – especially those who have never given or haven't given in a while – are urged to make an appointment to give today," Wilson added.
 How to help
Donors of all blood types, especially type O, are urged to make an appointment to donate using the Blood Donor App, at RedCrossBlood.org or by calling 1-800-RED CROSS (1-800-733-2767). Donation appointments and completion of a RapidPass online health history questionnaire are encouraged to help reduce the time it takes to donate.
 Those interested in hosting a blood drive can learn more and sign up to sponsor a drive this summer by visiting RedCrossBlood.org/HostADrive.
 Who blood donations help
Makayla Willett of Indiana is a happy 5-year-old who loves dance class, bowling and hockey. At age three, she was diagnosed with immune thrombocytopenic purpura, a disease that limits her production of platelets, which are critical to clotting. Makayla relies on medications made from blood, platelet and plasma to survive, and will need more as treatment continues. "We would love to see the community giving blood to help patients like Makayla," said Matt Willett, Makayla's father. 
 Upcoming blood donation opportunities July 9-31:
 OHIO
Hardin County
Ada
7/22/2019: 11:30 a.m. - 5:30 p.m., Visiting Nurses & Hospice, 1200 S. Main St.
Kenton
7/17/2019: 1 p.m. - 6 p.m., United Way of Hardin County, 225 South Detroit St.
7/22/2019: 12 p.m. - 6 p.m., First Baptist Church, 11543 County Road 175
7/29/2019: 9 a.m. - 3 p.m., Hardin County Courthouse Annex, 175 W, Franklin Street
7/29/2019: 12 p.m. - 6 p.m., Kenton Moose Lodge, 801 W Lima Street
_______________
Putnam County
Kalida
7/17/2019: 11 a.m. - 5 p.m., Kalida High School, 301 N. Third Street
Miller City
7/16/2019: 12 p.m. - 6 p.m., Miller City Sportsmans Club, 400 S. Main Street
Ottawa
7/23/2019: 12 p.m. - 6 p.m., Ottawa American Legion, 218 W. Main
Pandora
7/11/2019: 12:30 p.m. - 5:30 p.m., Pandora United Methodist Church, 108 Washington
_______________
Allen County
Bluffton
7/19/2019: 1 p.m. - 7 p.m., Bluffton Dari Freeze, 595 S Main Street
Elida
7/24/2019: 12 p.m. - 6 p.m., Elida High School, 401 East North Street
Lima
7/11/2019: 1 p.m. - 6 p.m., Forest Park United Methodist Church, 315 S. Collins Ave
7/16/2019: 1 p.m. - 6:30 p.m., American Red Cross Allen County Chapter House Lima, 610 S. Collett Street
7/16/2019: 2 p.m. - 6 p.m., Wal-mart Allentown Road #1330, 2450 Allentown Rd.
7/24/2019: 3 p.m. - 8 p.m., Cornerstone Church, 2001 N Cole St
7/25/2019: 10:30 a.m. - 3:30 p.m., Ohio State University Lima/Rhodes State College, 4240 Campus Drive
7/26/2019: 7 a.m. - 1 p.m., St. Rita's Medical Center, 730 West Market Street
Spencerville
7/11/2019: 12 p.m. - 5 p.m., Spencerville Nazarene Church, 317 W. North Street
_______________
Auglaize County
Saint Marys
7/16/2019: 12 p.m. - 5 p.m., Union Hall Local 200, 227 E. South Street
Wapakoneta
7/17/2019: 12 p.m. - 6 p.m., First English Lutheran Church, 107 W. Mechanic Street
_______________
Defiance County
Defiance
7/12/2019: 10:30 a.m. - 4:30 p.m., Eagle Post 372, 711 West 2nd Street
7/24/2019: 12 p.m. - 5 p.m., The Laurels of Defiance, 1701 South Jefferson Ave.
Hicksville
7/23/2019: 12 p.m. - 6 p.m., Empower Church, 09228 Hicksville Edgerton Road
_______________
Mercer County
Burkettsville
7/20/2019: 8 a.m. - 12 p.m., Shelter House, 100 W. Main Street
Celina
7/29/2019: 12 p.m. - 6 p.m., Knights of Columbus Celina, 129 North Vine St.
Fort Recovery
7/22/2019: 12 p.m. - 6 p.m., American Legion, 2490 State Route 49
Montezuma
7/30/2019: 12 p.m. - 6 p.m., Montezuma Volunteer Fire Dept./Franklin Twp. Building, 6805 SR 219
Saint Henry
7/10/2019: 12:30 p.m. - 6:30 p.m., American Legion, 341 W. Main Street
_______________
Paulding County
Antwerp
7/17/2019: 11 a.m. - 5 p.m., Antwerp Manor, 204 Archer Drive
Paulding
7/18/2019: 1 p.m. - 6 p.m., John Paulding Historical Society, 600 Fairgrounds Drive
_______________
Van Wert County
Convoy
7/15/2019: 2 p.m. - 6 p.m., Redeemer Lutheran Church, 6727 SR 49
Van Wert
7/17/2019: 10 a.m. - 4 p.m., Straley Realty, 419 W. Ervin Road
7/19/2019: 12:30 p.m. - 6:30 p.m., Trinity Friends Church, 605 North Franklin Street
7/30/2019: 11 a.m. - 5 p.m., Wal-mart Supercenter, 301 Town Center Road
_______________
Williams County
Bryan
7/27/2019: 10 a.m. - 2 p.m., Wesley United Methodist Church, 903 Center Street
Edon
7/23/2019: 1 p.m. - 6 p.m., Florence Township Fire Department, 326 S. Michigan St.
Montpelier
7/19/2019: 11 a.m. - 4 p.m., Montpelier Public Library, 216 E Main Street
7/26/2019: 11 a.m. - 4 p.m., The Enrichment Center, 11246 State Rt 15
Pioneer
7/13/2019: 9 a.m. - 3 p.m., Pioneer Community Center, 100 North Elm Street
Stryker
7/19/2019: 12 p.m. - 4 p.m., First Lutheran Church - Stryker, 701 South Defiance Street