The Celina Police Department is still trying to track down the man they say brutally beat up his wife in January.
According to the Celina Police Department. 43-year-old Mitchell Dale Mullins is still at large after investigators say he attacked his wife, 38-year-old Jessica Mullins, at their home at 125 North Enterprise Street in Celina.
Police say while the family was working on a puzzle on January 18, 2019, the husband jumped up and started punching the victim, kicking her and dragging her around until she was unconscious. She was taken to the hospital with serious head injuries.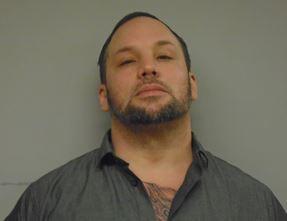 Mitch Mullins is described as 5'5", 200 pounds, brown hair, and brown eyes, driving a white Chevy Suburban. He has tattoos on his shaved head. Police say he has had weapons in the past and has a long criminal history of violence and is on parole from prison, police believe he has at least two firearms with him.
If you do see Mullins, please call law enforcement. Police say to not approach him. As of now, Mullins is charged with felony domestic violence with more charges expected.