Agriculture is still under fire when it comes to the harmful algal blooms that have affected area waterways even though years of best water quality practices have been used by farmers.
Lima Rotarians hearing about the challenges that Ohio's biggest industry, agriculture, is facing in the ever-changing world of water quality. Allen County Commissioner Jay Begg, a farmer by trade, and Beth Seibert from the Allen County Soil and Water Conservation District just touching the surface of the ever complex situation concerning farm runoff. Changes have been made since the Clean Water Act of 1972 that includes farmers being certified in manure and fertilizer application and implementing best practices like stream buffers and cover crops. Farmers realize they are part of the problem and are working to be part of the solution.
Commissioner Begg says farmers are a big part of the solution but feels they can't fix it alone. They need all the help they can get. Primarily from their research universities and the agricultural input community. He says farmers will do what needs to be done if they have a good idea that what they are doing is making a difference.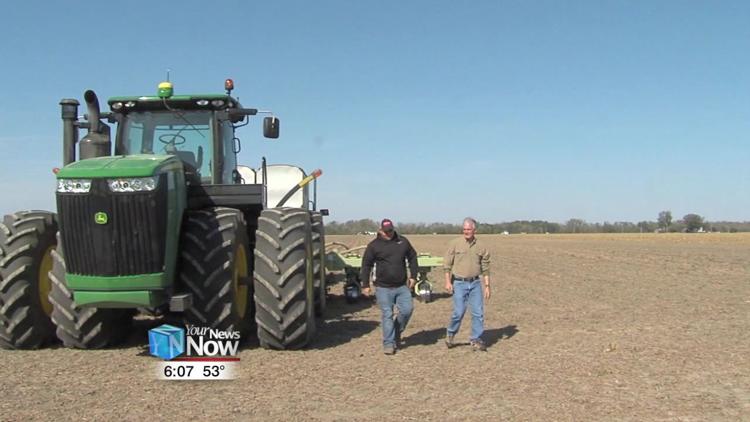 Agriculture consumes nearly 85% of the landmass in Northwest Ohio and some farmers are feeling at a loss on how to make significant changes in their landscapes to improve water quality. Once they feel they may have a handle on nutrients, like phosphorus leaving the soil, something else pops up that changes the game plan.
Beth Seibert says they are now learning that phosphorus is coming through field tile. She says they were always taught that phosphorus attached to the soil and if you can control soil erosion and kept the soil particles on the field, you kept your phosphorus on the field. Now they're finding out that the dissolved reactive phosphorus is leaving the soil through their farm filed tiles.
Siebert says that increasing requirements on farmers to help with water quality could adversely affect an already financially strapped farming operation.