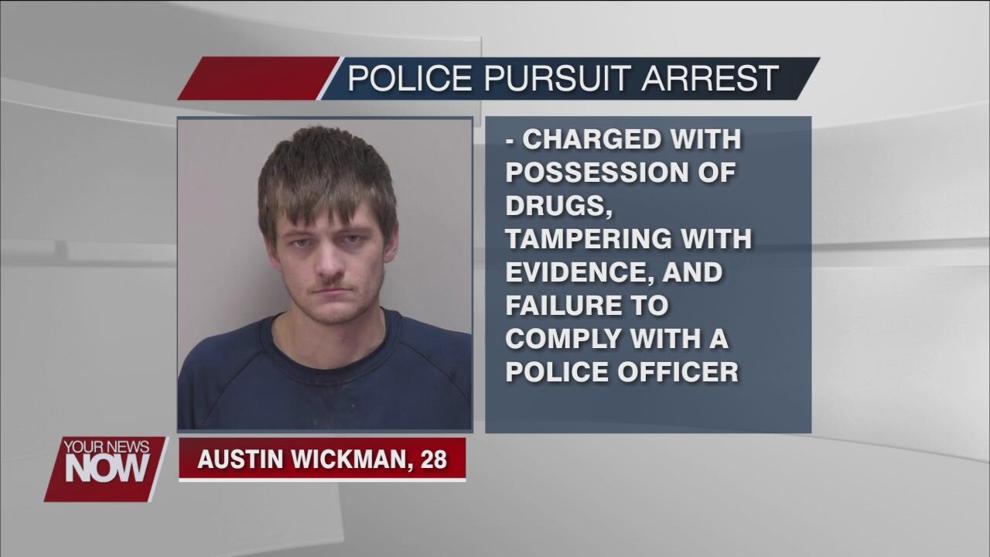 Findlay Police officers arrested a man for throwing suspected drugs from a vehicle during a Sunday afternoon police chase. The incident happened just before 3 p.m., officers tried to stop a pickup truck driven by 28-year-old Austin Wickman of Findlay in the 1100 block of W. Trenton Avenue. Wickman turned onto another street and cut of a vehicle to try and elude police. Officers noticed baggies were being tossed from the pickup's passenger window. Wickman stopped and was taken into custody, the baggies were recovered and believed to have suspected drugs in them. Wickman was taken to the Hancock County Jail and charged with possession of drugs, tampering with evidence, and failure to comply with a police officer.
Media release from Findlay Police Department
On 1/9/2022 at 1448 hrs, an officer attempted a traffic stop on a pick-up truck in the 1100 block of W. Trenton Avenue, as it turned eastbound off of Northridge Road.  The pickup cut off a vehicle in an attempt to elude the officer, at the intersection for southbound I-75. The officer continued to pursue the vehicle, which was now operating at a slow speed and tossed a couple baggies from the passenger window.  The pickup then stopped along the roadside just south of the on ramp.  A high risk stop was conducted by officers and the driver was detained/identified as Austin Wickman.  The baggies were found to contain suspected drugs. 
Austin Wickman (age 28)was incarcerated at the Hancock County Justice Center on charges of Possession of Drugs, Tampering w/ Evidence, and Fail to Comply with a Police Officer.  He was also issued a citation for being a suspended driver.
There were no injuries as a result of the incident.