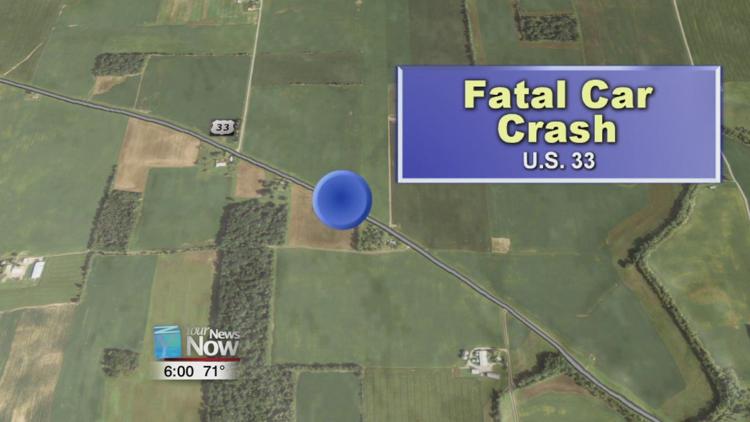 Troopers from the Wapakoneta post are saying that just before 8 p.m. Friday night on US 33 just west of Sites Road, 32-year-old Timothy Huffman of Spencerville was driving east when he went left of center for some unknown reason and drove into the path of Shirley Price, 71 of Rockford. Price tried to avoid Huffman but the two cars hit head-on. Huffman was pronounced dead at the scene. Shirley Price and her passenger Marion Price were taken to St. Rita's. Shirley was seriously injured; Marion had non-life threatening injuries.  The crash remains under investigation.  
Media release from the Wapakoneta Post of the Ohio State Highway Patrol 
Wapakoneta, Ohio — Troopers from the Wapakoneta Post of the Ohio State Highway Patrol are investigating a fatal crash that occurred Friday evening August 30, 2019 at approximately 7:56 p.m. on US 33 west of Sites Road in Mercer County.
 Through the investigation, it was found that a silver 2004 Chevrolet Malibu was being driven westbound on U S 33 by Timothy D. Huffman, age 32 of Spencerville, Ohio.  A dark blue 2006 Ford Freestyle was being driven eastbound on US 33 by Shirley A. Price, age 71 of Rockford, Ohio. The Huffman vehicle traveled left of center, for an unknown reason into the eastbound lane. The Price vehicle drove towards the westbound lane to avoid the Huffman vehicle and was struck head on by the Huffman vehicle. Both vehicles sustained severe disabling damage.
Shirley A. Price and Marion L. Price (passenger) were transported by Rockford EMS to Joint Township District Memorial Hosp ital for treatment. Upon arrival, Mrs. Price was taken by Life Flight to St. Ritas Hospital for incapacitating injuries.  Mr. Price was taken by Rockford EMS to St Ritas for non -incapacitating injuries.
Timothy D.  Huffman was pronounced deceased at the scene by the Celina  EMS  personnel and was transported to the Lehman Dzendzel Funeral Home in Celina, Ohio.
Timothy D. Huffman was not wearing a properly adjusted seatbelt. Shirley and Marion Price were wearing properly adjusted seatbelts. Alcohol is not suspected in this crash. The crash remains under investigation.
 Next of kin has been notified.