Wednesday evening, Lima High School students were honored for their academic excellence at the annual Honors Banquet.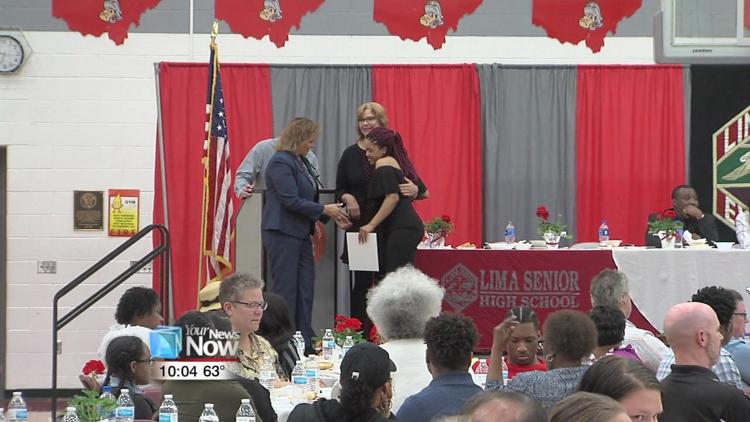 Close to 200 freshman, sophomores, juniors, and seniors were recognized tonight. Students were recognized for making honor roll all three quarters, becoming student of the month, and excelling in their course classes.
But the most prized award was a Chevy HHR. This was raffled off to students who maintained a 3.5 GPA all school year, had no absences or tardiness. The winner and valedictorian said it was important for her to excel so that she could get her first car.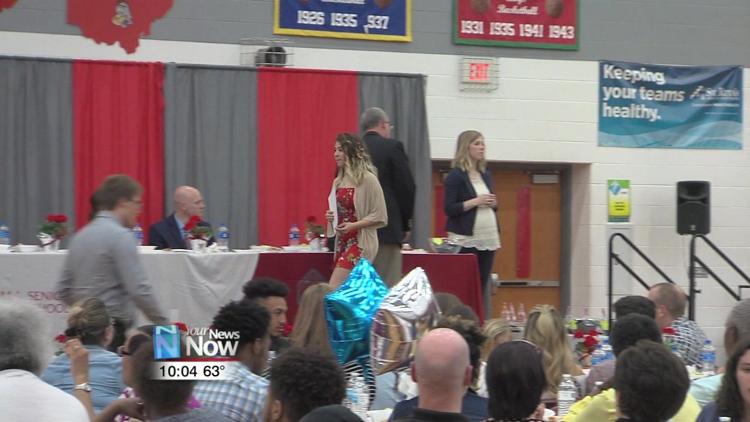 "I just had to make sure that I was diligent and I knew what my priorities were so I knew that I wanted to have perfect attendance," said Ti'ara Spivey, Lima Senior High School valedictorian. "I've had perfect attendance all four years. I knew that I wanted to get good grades so persevere and being driven to make sure I accomplish everything."
Tom Ahl Family Dealerships donated the Chevy HHR.
*Correction - We originally said the vehicle was a PT Cruiser. This was incorrect and we apologize for the error.
Press Release from Lima City Schools
Lima Senior High School senior and this year's Valedictorian Ti'ara Spivey left last night's Honors Banquet the owner of a new car donated by Tom Ahl Family Dealerships of Lima.
Spivey was one of 25 students with the chance to win the car, which is part of an incentive program for students.
Students who turned 16 before April 1, maintained a 3.5 GPA all school year, had no absences, no tardiness and no discipline referrals had the chance to win the car. A reverse raffle format is used to determine the winner.
The other students who met the criteria were Alexandria Moening, Ryan Utendorf, Noah Phillips, Ashley Smart, Anthony Lutz, Zachary Zwiebel, Anija Dupree, Brandon Stegg, Almarina Sutton, Daniel Osborn, Hailee Dunn, Ta'tiana Goston, Ryan Johnston, Lauren Willhight, Keaten Hittle, Lydia Henry, Kash Sutton, Jordan Guice, DaQuasha Lawrence, Dalonte' Manley, Bryce Binkley, Jakyra Hunter, Samantha Doan, Camden Willhight.
This was the third year of the incentive program and the year with the most students qualifying.
Included in the academic honors were students selected by each department as the best in each grade. Teachers in each department decide on the award winners. Students did not know they won until the banquet.
The following were honored. They are listed in order from freshman to seniors.
English: Molly Sheets, Caden Burklund, Claire Mericle and Jasmine Pinn
Math: Evelyn Williams, Ryan Utendorf, Alyssa Jackson and Nathan Shauf
Social Studies: Christopher Sellati, Roderick Thomas, Jeremiah Dew and Michaela Musto
Science: Seth Jones, Jourdyn Rawlins, Kaitlyn Marchbanks and Taryn Lesh
Spanish: Ara Rexford and Ti'ara Spivey
French: Hailey Bartels and Maria Guida
Career Tech: Ta'tiana Goston and Daquasha Lawrence
Art: Emalea Collins, Anija Dupree, Elica Hobbs and Samantha Doan
Music: Richard Lee, Noah Phillips. Saharra Young and Sofia Restivo