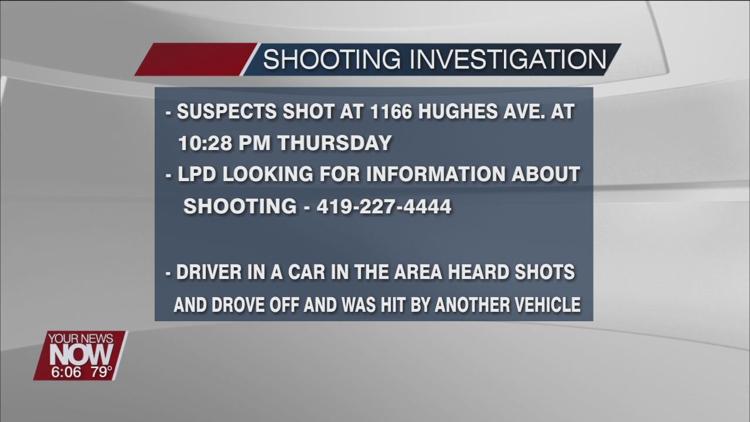 The Lima Police Department investigates a shooting that happened Thursday night on the south side of the city.
There were reports of shooting at 1166 Hughes Avenue just before 10:30 PM. Unknown suspects fired at the home and took off and there were no reports of anybody hurt at the location. But a person driving a car in the area heard the gunshots and took off. His car was hit by another vehicle, the driver received minor injuries.
If you have any information about the shooting on Hughes Ave., you are asked to call the Lima Police Department at 419-227-4444 or Crimestoppers 419-229-7867 (STOP)
Media Release from Lima Police Department – 8/7/20
On Thursday, August 6, 2020, at approximately 10:28 pm, Officers from the Lima Police Dept. received a call about a shooting that occurred at 1166 Hughes Ave.  Unknown suspect(s) fired at the residence and as a result the residence was struck by the gunfire.  There were no reported injuries at this time as a result of the shooting.
Leiayre Freeman (27 years old of Lima) was in a vehicle in the area.  After hearing the gunfire, Leiayre fled the area in a vehicle.  While fleeing the area, Leiayre's vehicle was struck by another vehicle traveling in the area.  Leiayre sustained minor injuries from the crash and was treated at a local hospital. 
Anyone with information regarding this crime is asked to contact the Lima Police Department at 419 227-4444, Det. Sean Neidemire at 419 221-5295 or Lima Allen County Crime Stoppers at 229-STOP.