A group of Ohio Northern University Polar Bears stepped into the shoes of their namesake to raise money for charity at fraternity Delta Sigma Phi's 10th annual Polar Plunge in the school's pond.
"This is my first year with the lake frozen over completely so we had some fun breaking up the ice this morning," said Joshua Pettay, Philanthropy Chair for the fraternity.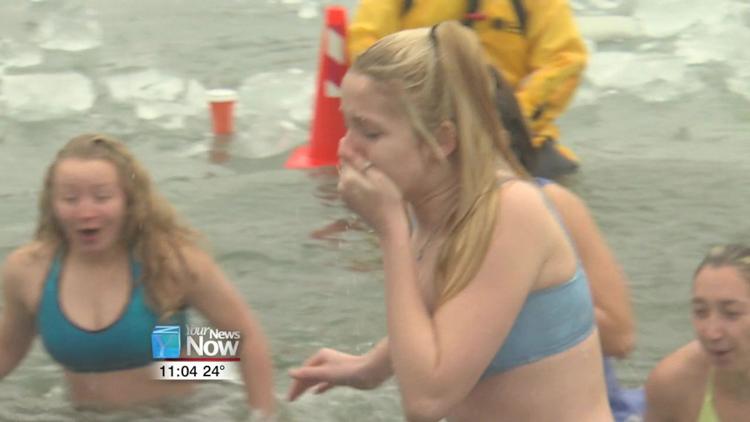 People could sponsor fraternity members or even jump in themselves for $5 per swim.
Benefiting from the chilly dips in the pond is the American Red Cross, an organization close to their hearts of Delta Sigma Phi brothers all over the county.
"Red Cross is our national philanthropy organization and we just figured what better way to break the ice out here with all these polar players to jump in a frozen pond," said Pettay. "[The Red Cross] just represent what we do and that's helping everybody we can every way possible."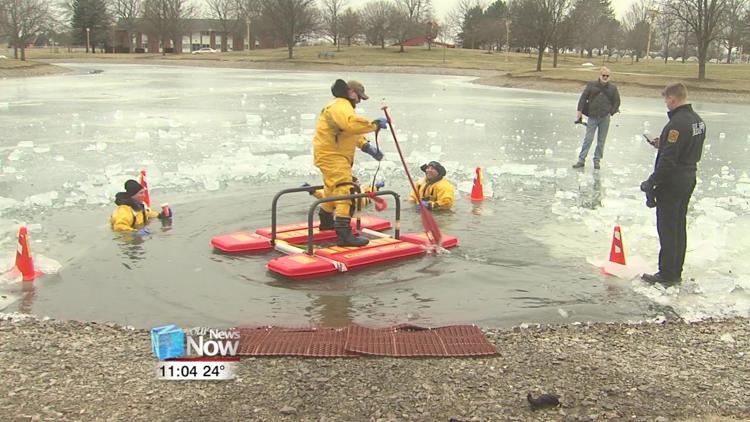 The brothers at ONU tend to have a little more fun with this event, often sponsoring each other to go in multiple times because, after all, it is for charity.
"It's always good to help out the community. We try to keep everything as local as we can when we do fundraisers," said fraternity member Cody Layman. "This one's particularly fun just because you get to watch everybody freeze all day and then it's fun for us because we like to spend our money on each other and make them jump in more than they have to."
This year's goal was for the fraternity to raise $1,000 for the Red Cross.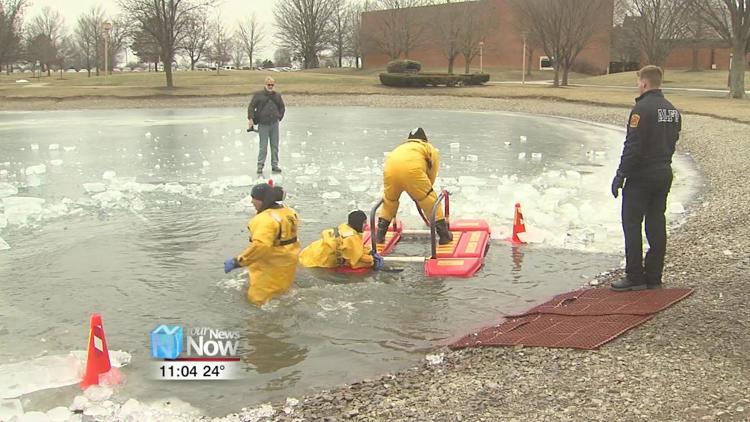 When the Polar Bears were not taking a dip, the Ada-Liberty Township Fire Department used the time to further their training.
ONU's pond was frozen deeper than it has for quite some time now, with some points being four inches thick or more. The rescue team helping with the polar plungers used the opportunity to take out their rescue boat and practice moving it around and breaking through the thick ice, a skill they do not use very often but still need to stay sharp on.
"When we do have a rescue call we don't have time to have to remember what to do," said Lt. Dave Zimmerly. "It needs to come automatically, so that's why we continue to train and re-train so this stuff comes back to us automatically. We can get out there and get that victim, get them out of the water because time is in essence and we've got to get them out of that water."
Zimmerly says the department is fortunate that they have never had to make an ice rescue but that fact also makes these training opportunities all the more important.