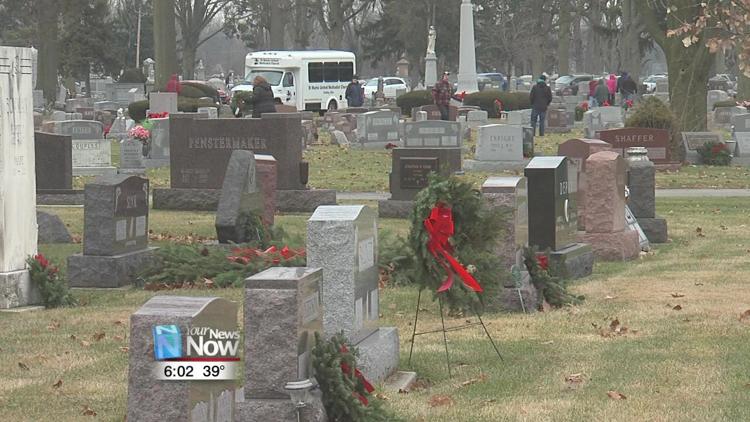 Nearly 2 million wreaths from Harrington, Maine were laid on the graves of veterans across America over the weekend through the Wreaths Across America program.
Just over a thousand of those were driven to Maple Grove Cemetery in Findlay by Garner Trucking driver Gary Smith.
"I deliver freight every day but this is special," said Smith, who took time to lay wreaths with his wife Cathy. "This is special cargo. It's what they stand for, that's what's more important and there's families here that came to pay respect to fathers, grandfathers, great-grandfathers."
In fact, almost double the number of people as there were last year came out to lay wreaths, a good thing considering there were several hundred more to lay.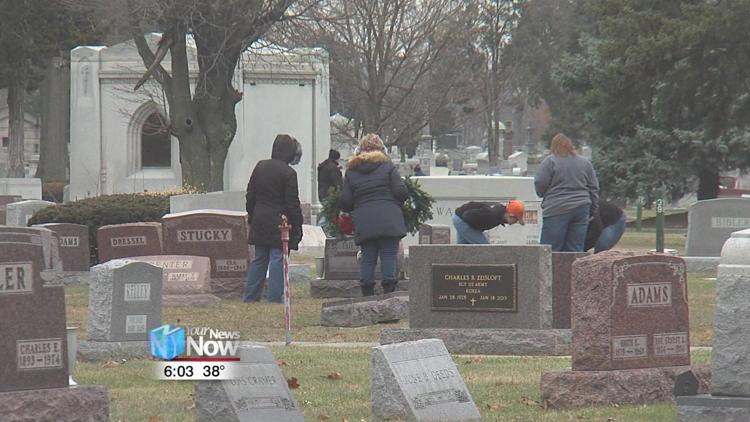 "Currently there's an estimated maybe 4,500 veterans here, every year it's grown," said Gavin Smith, the local coordinator for Wreaths Across America. "The first year we had 400 wreaths and then we had 700 and then this year we're at about 1,100 wreaths. The process is you take your wreath, anyone that's a veteran, be their witness. Say their name and thank them for their service and that way they're not forgotten, that their name is still spoken."
And it was more than just relatives of fallen soldiers who took part.
"My hobby is local history, military history, and I thought I would come out and participate to honor these great people," said Ron Ammons of Findlay. "There are more than 4,000 vets buried in this cemetery and I wanted to honor those people, including the best friend of my father who was killed in World War II."
Of course, what goes on the graves must eventually come off, a task that does not draw nearly as many volunteers. They are hoping to get help picking up all the wreaths on January 19, 2019.