In the wake of Hurricane Dorian, the American Red Cross has been pitching in to help those affected by the storm, and now it's the Red Cross who needs a little help.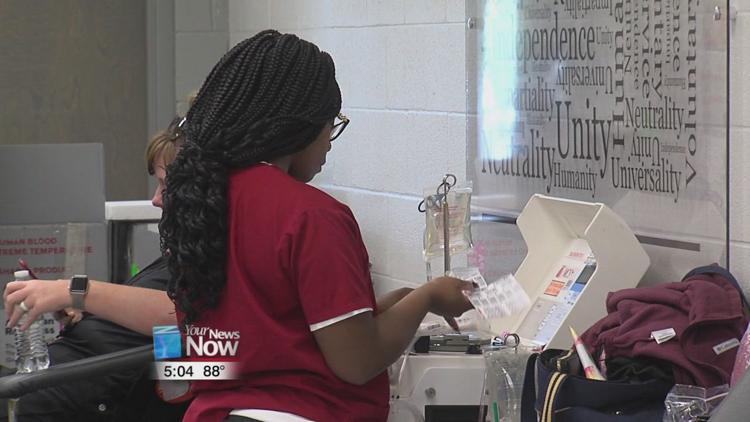 The Red Cross worked to stock hospitals in the southeastern part of the United States just before the hurricane made landfall. The storm also disrupted blood drives and blood donation centers in those areas, putting the Red Cross in a spot where they are now looking to other parts of the country to make sure that patients hit by the storm can have access to the blood that they may need.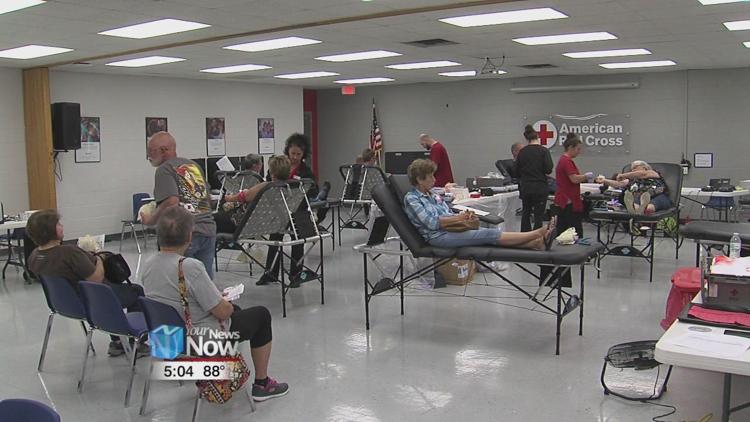 "Our blood supply has dropped significantly; we were already tested with the amount of blood that we had on supply before, but now blood donors coming in blood donations is a critical need," said Tom Pesenecker, said Collections Manager for the American Red Cross Indiana - Ohio Region. "We want to make sure that that any donor that can come in and anyone who is thinking about donating blood, we really need them to come and help us as we're trying to augment those areas that have been affected by the hurricane."
While the Red Cross can't add any additional blood drives to the schedule, there are still plenty that are going on, like a blood drive that was held in Lima. It was put on by Team Lauren, which was started to help out kids in need. Hal Graham came in support of that cause, and to play a part in potentially saving someone's life.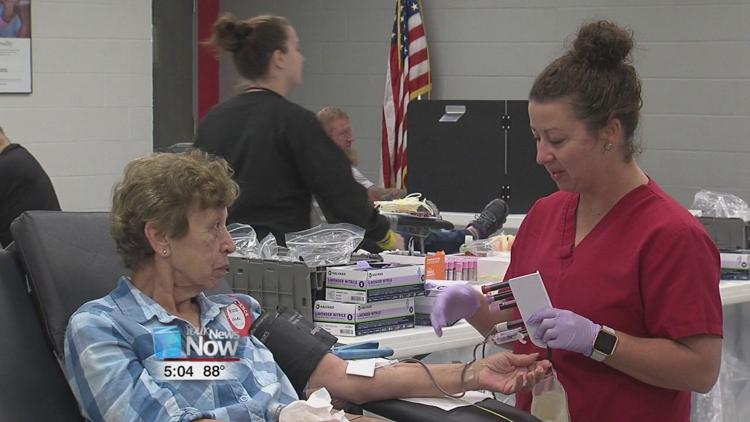 "I do try to donate blood whenever possible, my wife and I both, and it's important," Graham said. "You find out how much blood is needed everywhere and I feel fortunate enough to be able to give, that's basically why we're here."
If you're interested in donating blood, here's a list of blood drives happening in the area:
Hardin County
 Ada
9/23/2019: 11:30 a.m. - 5:30 p.m., Visiting Nurses & Hospice, 1200 S. Main St.
 Kenton
9/23/2019: 12 p.m. - 6 p.m., First Baptist Church, 11543 County Road 175
9/30/2019: 12 p.m. - 6 p.m., Kenton Moose Lodge, 801 W Lima Street
_______________
Putnam County
Columbus Grove
9/12/2019: 12 p.m. - 6 p.m., St Anthony of Padua Parish, 512 W. Sycamore St
Fort Jennings
9/11/2019: 12 p.m. - 6 p.m., Fort Jennings American Legion, 100 American Legion Drive 
Ottawa
9/27/2019: 12:30 p.m. - 6:30 p.m., Putnam County YMCA, 101 Putnam Parkway
Pandora
9/9/2019: 8:30 a.m. - 1 p.m., Pandora Gilboa High School, 410 Rocket Ridge
_______________
Allen County
Bluffton
9/12/2019: 8:30 a.m. - 2 p.m., Bluffton High School, 106 W. College Ave
Lima
9/10/2019: 12 p.m. - 6 p.m., American Red Cross Allen County Chapter House Lima, 610 S. Collett Street
9/17/2019: 1 p.m. - 6:30 p.m., American Red Cross Allen County Chapter House Lima, 610 S. Collett Street
9/26/2019: 11:30 a.m. - 3:30 p.m., Ohio State University Lima  Perry Webb Student Life Bldg, 4240 Campus Drive, Building 3000
_______________
Auglaize County
New Bremen
9/30/2019: 12 p.m. - 6 p.m., American Legion, 6458 State Route 66
Saint Marys
9/10/2019: 12 p.m. - 5 p.m., Union Hall Local 200, 227 E. South Street
Wapakoneta
9/26/2019: 11:30 a.m. - 5:30 p.m., St. Paul United Church of Christ, 101 E. Mechanic Street
_______________
Defiance County
Defiance
9/10/2019: 11 a.m. - 4 p.m., Promedica Defiance Regional Hospital, 1200 Ralston Ave
9/11/2019: 1 p.m. - 5:30 p.m., VFW 3360, 201 North Clinton Street
9/13/2019: 10:30 a.m. - 4:30 p.m., Eagle Post 372, 711 West 2nd Street
9/20/2019: 11 a.m. - 5 p.m., Mercy Health Defiance Campus, 1400 E. Second Street
_______________
Mercer County
Burkettsville
9/14/2019: 8 a.m. - 12 p.m., Shelter House, 100 W. Main Street
Celina
9/10/2019: 9 a.m. - 3 p.m., Wright State University Lake Campus, 7600 State Route 703
9/16/2019: 1 p.m. - 6 p.m., Miller Place, 1506 Meadowview Drive
9/23/2019: 12 p.m. - 6 p.m., St. John Lutheran Church, 1100 N. Main Street
9/24/2019: 12 p.m. - 6 p.m., Montezuma Volunteer Fire Dept./Franklin Twp. Building, 6805 OH-219
Fort Recovery
9/16/2019: 12 p.m. - 6 p.m., Mary Help of Christians Catholic Church, 403 Sharpsburg Rd
Maria Stein
9/9/2019: 12 p.m. - 6 p.m., Knights of St. John, 8608 State Route 119
_______________
Paulding County
Payne
9/16/2019: 2 p.m. - 7 p.m., Payne Elementary, 501 West Townline Road
_______________
Van Wert County
Van Wert
9/27/2019: 8 a.m. - 1 p.m., Trinity Friends Church, 605 North Franklin Street
9/27/2019: 1 p.m. - 6 p.m., Trinity Friends Church, 605 North Franklin Street
_______________
Williams County
Montpelier
9/15/2019: 12 p.m. - 4 p.m., First Presbyterian Church, 114 West Washington
Stryker
9/13/2019: 12 p.m. - 4 p.m., First Lutheran Church - Stryker, 701 South Defiance Street