The Van Wert post of the Ohio State Highway Patrol made Christmas a little brighter for six children in their community by hitting the aisles for a Shop with a Trooper event.
Troopers, staff, and dispatchers from the post-treated two local families in need of a bit of help this year to a little shopping spree at the Van Wert Walmart.
"The Salvation Army in Van Wert has provided us with a couple of families that they have on their list that needed help this Christmas," said Van Wert Post Commander Lt. Jonathan Gray. "They don't have to worry about what they're doing for Christmas for toys. If they need to get regular stuff, shoes, coats, and things like that, we help out with that. This is one way to make someone else's Christmas better."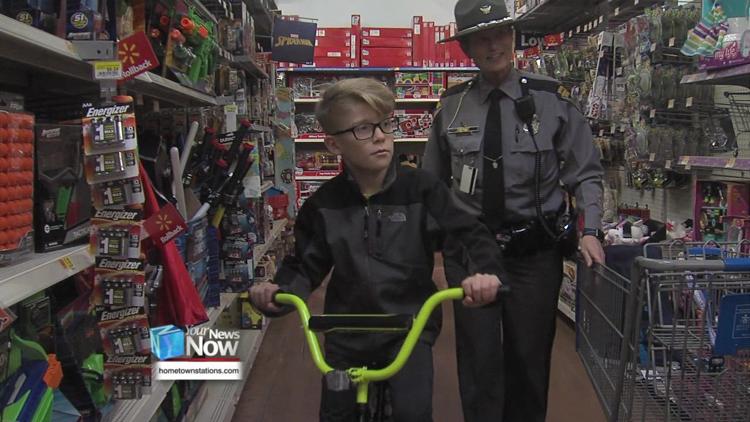 Within a budget of about $100, the children get to browse the aisles and pick out the things they really want. While they don't necessarily go in with a list, Jonathan Huffman, 11, went in looking for things that he could get a lot of use out of that he otherwise would not have been able to afford.
"I had lots of fun choosing what stuff that I haven't been able to have for a little while," said Huffman, who got a chance to shop along with his 4 siblings. "For the bike I got, it'll make me get to my friends quicker. In class, we're able to listen to music whenever we're able to but my headphones broke. I got some more better headphones so I'm able to listen to my music."
And for the post, it's a chance to make a more meaningful impact on the youth in their community.
"We pick kids from our community that maybe just need a little boost this year," said Trooper JJ McClaine. "You don't understand how important it is for these kids just to have clothes, so we picked a couple toys, picked a couple outfits. Just to see their smile, it's everything. It's so rewarding."
This is the third year the post has partnered with the Salvation Army to help families in need, and they're looking forward to continuing to make that positive impact in the years to come.