The weather this morning turned out to help the Allen County Sheriff's Office in recovering stolen property, taken from Bobcat of Lima.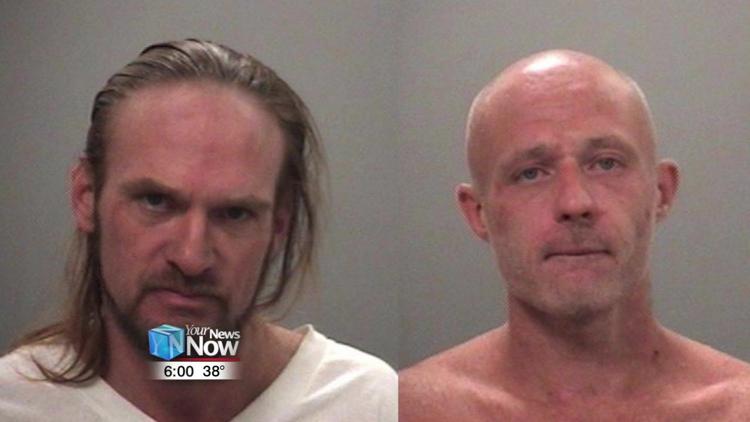 According to the sheriff's office, around 2:00 this morning, three utility vehicles were taken from Bobcat and they have now recovered two vehicles with a third still missing. Jesse Arnett and Jeffrey Paxton were taken into custody in connection to the crime. Deputies initially received noise complaints in the area of Norval Avenue and South Main Street. Then similar complaints came in near the 1300 block of Bowman Road. Using snow tracks and interviews it lead to Arnett at 2611 Norval Ave. About an hour and a half later, by way of the K-9 unit, Paxton was tracked near Resse Avenue and 17th Street.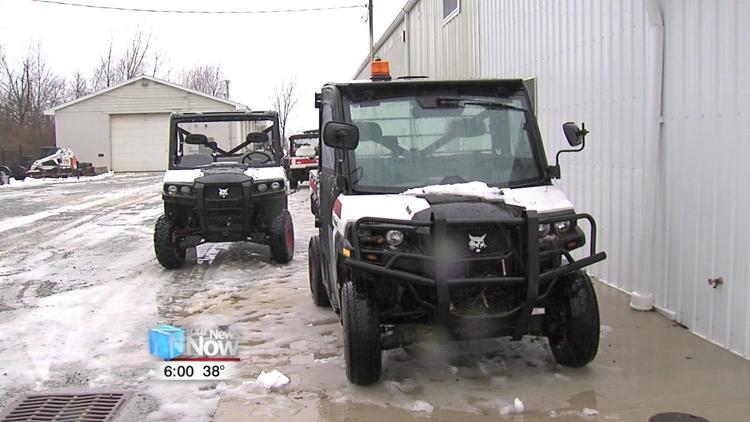 "Received other noise complaints, further away from that area," said Lt. Andre McConnahea. "Similar type noise complaints. Once they reached the Bowman Road facility they found evidence, they found evidence that appeared equipment had been removed from the facility. Began searching. That search eventually lead to a residence."
Anyone with information about the missing UTV is encouraged to call Detective Brad Hoy at 419-993-1431.
MEDIA RELEASE - 2/20/2019
This morning (2-20-2019) at approximately 2:00 AM the Sheriff's Office began receiving ATV type noise complaints in the area of Norval Ave. and S. Main St. in Lima, and awhile later similar complaints began coming in from the area of 1300 block of Bowman Rd. While searching the areas deputies found evidence at Bobcat of Lima (1368 Bowman Rd. Lima, Ohio) that suggested equipment may have been stolen from the property. An employee was able to respond and found that at least three UTVs had been taken from the property. Deputies continued to search the area of Norval Ave., and while searching, received a call from a concerned citizen that observed a UTV being driven behind residences on 17th St. Deputies located vehicle tracks consistent with a UTV and found one of the UTVs parked behind a home. They also observed fresh foot tracks from the UTV leading to the residence of 2611 Norval Ave. One suspect, Jesse Arnett, was eventually located hiding inside the residence and was taken into custody at approximately 6:20 AM.
While a K-9 officer continued to search the area for the other stolen UTVs, a new set of fresh foot tracks were found that belonged to someone leaving the same residence where Arnett was taken into custody. The K-9 Officer followed the tracks until locating suspect, Jeffrey Paxton, hiding in a wooded area near Reese Ave. and 17th St. at approximately 7:45 AM. A short time after taking Paxton into custody, deputies located a second UTV in a wooded area near 2250 Central Point Parkway.
At the time of this media release the third UTV is still missing. The missing UTV is similar to that of the attached photo. The Detective Bureau continues to investigate the theft and asks anyone with any information related to this case to contact Detective Brad Hoy at 419-993-1431. Currently, Arnett and Paxton are both being held on individual felony counts of Receiving Stolen Property.
Jesse Edward Arnett
10-26-1979
2527 N. Cool Rd. Lima, Ohio 45804
W/M 5' 7" 150lbs Bro/Bro
Jeffery Paxton
11-24-1982
2611 Norval Ave. Lima, Ohio 45801
W/M 5' 10" 185lbs Bro/Grn