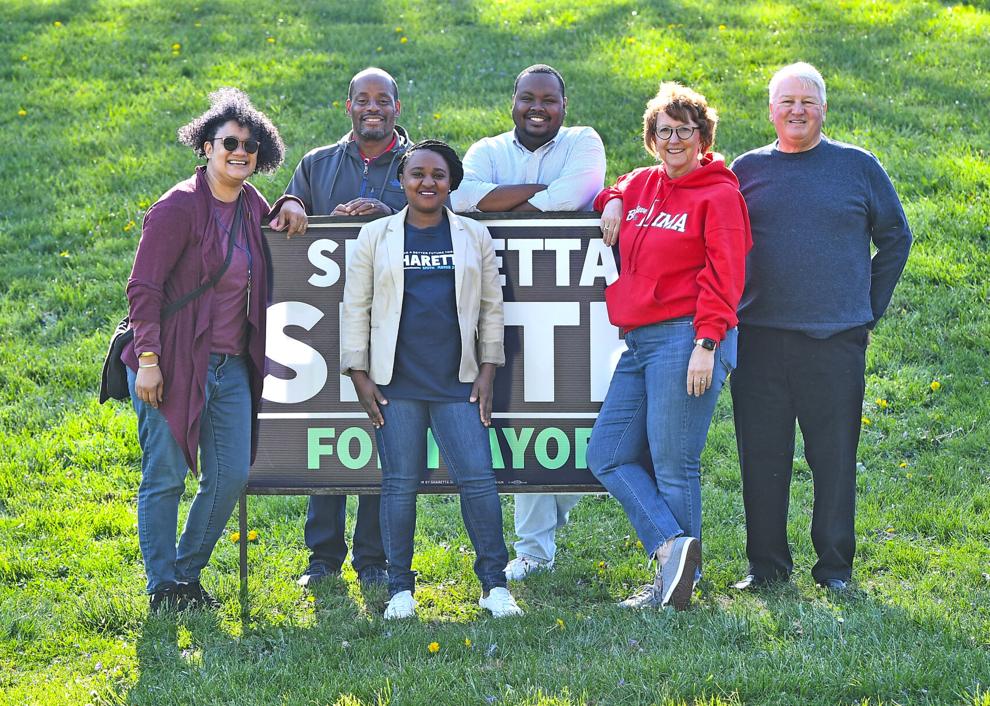 Media Release from four current and one former Lima City Council members: Lima's four newest and one former city councilor are endorsing mayoral candidate Sharetta Smith to lead Lima ahead of the Tuesday, May 4th primary election.
Second Ward Councilor Tony Wilkerson, 3rd Ward Councilor Carla Thompson, Current 4th Ward Councilor Peggy Ehora and former 4th Ward Councilor Tom Tebben and 5th Ward Councilor Jamie Dixon announced their endorsement at a Smith for Mayor photo event Friday at Faurot Park, where nearly 100 Lima residents gathered to show their support. Wilkerson and Ehora were elected in 2019, Thompson and Dixon in 2017 and Tebben who served 15 years prior to 2015, all agree that Smith is the most qualified candidate to lead Lima at a pivotal time of transition and growth in and around our city.
As those who have or are serving as members of the legislative body of the city, we believe that Sharetta possesses the qualities needed to serve as our leader in Lima.  Her experience as a public defender and magistrate speak to her ability to listen, negotiate and make difficult decisions.  In her time as chief of staff she has had direct responsibility administering our city's $38 million operating budget and managing our Finance, Community Development, Public Works, Human Resources, Utilities, Police and Fire Departments with a workforce of over 400 people.
She is the epitome of what we wish upon and want for the generations of folks who grow-up in our city.  Her path to success was filled with challenges and sacrifice, but she worked hard to educate herself, gain knowledge and experience only to return home to make a difference in the community she knows and loves.  Here is what each had to say in support of Sharetta:
"This will be the most significant change we have made in city government in over 30 years. The person taking that job needs to be prepared on day one and the only candidate who fits the bill is Sharetta Smith," Tom Tebben, former 4th Ward Councilor.
 "Substance is my main reason for supporting her. When I listen to Sharetta, she has substantive responses for resident questions. She doesn't offer platitudes and feelings, she offers up the research she has done and real plans for moving Lima forward." Carla Thompson, 3rd Ward Councilor
"When it comes time to vote, I have to support the candidate who has a vision for the future and one I believe will do the best job starting on day one.  It is important to elect a mayor with common sense, who is well-respected, fair, honest, transparent and who makes sound decisions for all citizens of Lima.  That someone is Sharetta Smith."  Jamie Dixon, 5th Ward Councilor.
"I have found Sharetta to be a quick-study, a superb listener and collaborator and most importantly as someone who sees a better future for Lima.   SHE is the change that will take Lima to greater heights and possesses the true knowledge of how a city government operates on a day-to-day basis." Peggy Ehora, 4th Ward Councilor.
"I believe Sharetta has what it takes to communicate with other leaders throughout Allen County, and collaborate with them to make meaningful change. I am confident she will use HER OWN vision, relationships and skills to guide this city on a path to rebirth." Tony Wilkerson, 2nd Ward Councilor
We encourage all of our friends and neighbors to join us in voting for Sharetta Smith for Mayor of the City of Lima – Tuesday, May 4, 2021.