Allen County law enforcement were involved in a high-speed chase in the eastern part of the county late Thursday afternoon.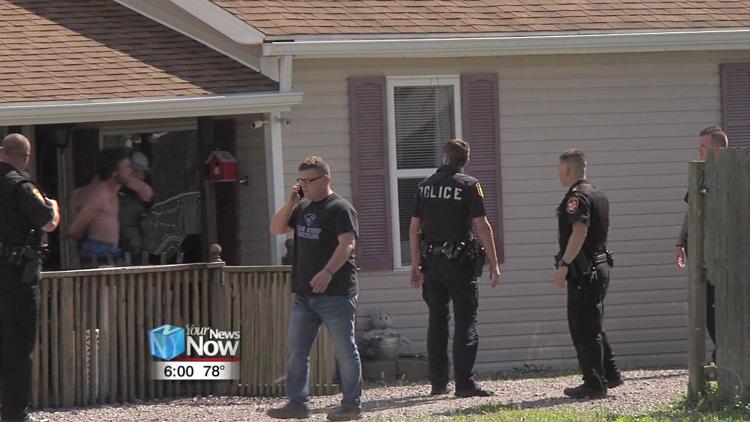 Major Todd Mohler from the Allen County Sheriff's Office says around 3:30 p.m., the suspect, Justin M. Triplett, was being watched by their undercover units because of outstanding warrants. When they called in road units to arrest Triplett, he took off and led law enforcement on a chase on the east side of Lima. He almost made it to the Hardin County line, before he double backed to Lima. Speeds reached up to 85 miles an hour. Triplett ditched his pickup truck along Central Point Parkway and ran to his mother's house on Charledon Avenue and law enforcement arrested him there.
There's no word yet on what charges he's facing.
Press Release from the Allen County Sheriff's Office
On 5-30-2019 at approximately 3:56 PM the West Central Ohio Crime Task Force attempted to serve multiple arrest warrants on Justin M. Triplett at the request of the Shawnee Township Police Department who also had a current active investigation involving Justin. The Task Force Officers attempted to make contact with Justin in a business lot in approximately the 2300 Block of Harding Hwy. Justin fled from the Task Force Officers in a vehicle, at which time a traffic stop was attempted by an Allen County Sheriff's Office cruiser and Shawnee Township Police Department unit. Justin continued to flee officers for approximately 20 minutes and eventually the Ohio State Highway Patrol and the Lima Police Department aided in the pursuit. In the area of 9th St. and Kingston Ave. Justin exited the roadway and struck a residence, causing minor damage. Justin fled the scene on foot until he reached his mother's residence of 2004 Charledon Ave. where he was eventually was located hiding in a crawl space. Justin was booked into the Allen County Jail on the charge of Willfully Fleeing. He was also booked in for two outstanding warrants through the Allen County Common Pleas Court. Justin also has active warrants through the Mercer County Sheriff's Office.
Justin M. Triplett, 1-30-1991, 2004 Charledon Ave. Lima, Ohio, W/M Bro – Blue 145lbs 6'