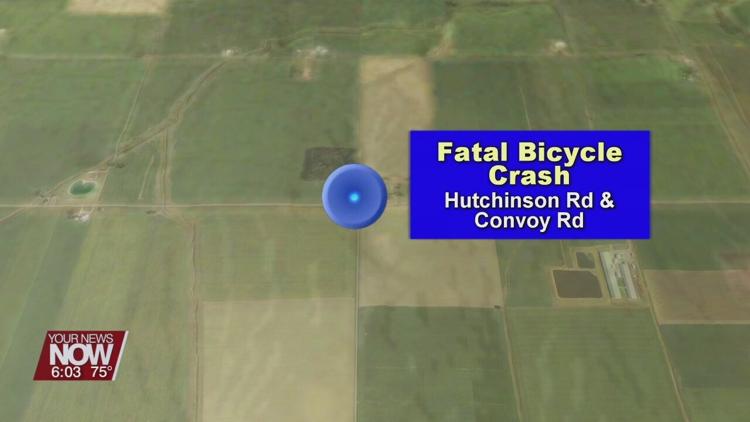 A Grover Hill woman was hit and killed while riding her bicycle in rural Van Wert County.
Van Wert County Sheriff's office says Mary Looser was killed Friday night while she was riding east on Convoy Road just east of Hutchinson Road. A car, driven by Mackenzie Baker of Van Wert, struck the rear of the bicycle. Looser was pronounced dead at the scene. The investigation into the crash is ongoing and charges may be filed.
Media release from Van Wert County Sheriff 8/1/2020
Van Wert County Sheriff Thomas M. Riggenbach announced deputies are investigating a fatal crash that occurred on Friday. Sheriff Riggenbach said his Office received a 911 call at 1844 hours in reference to a motor vehicle accident on Convoy Road and Hutchinson Road. Deputies found that a bicyclist and 2002 Buick Regal were Eastbound on Convoy Road East of Hutchinson Road in Hoaglin Township. Evidence at the scene indicates the car ran into the rear of the bicyclist. The rider of the bicycle Mary L. Looser, of Grover Hill, was pronounced dead at the scene by Van Wert County Coroner Scott Jarvis. The driver of the Buick Regal was Mackenzie A. Baker of Van Wert. Sheriff Riggenbach stated the investigation of the crash is continuing and charges could be filed. Alcohol is not believed to be a factor.
The Sheriff's Office was assisted at the scene by the Middle Point Fire Department and Ohio State Highway Patrol.