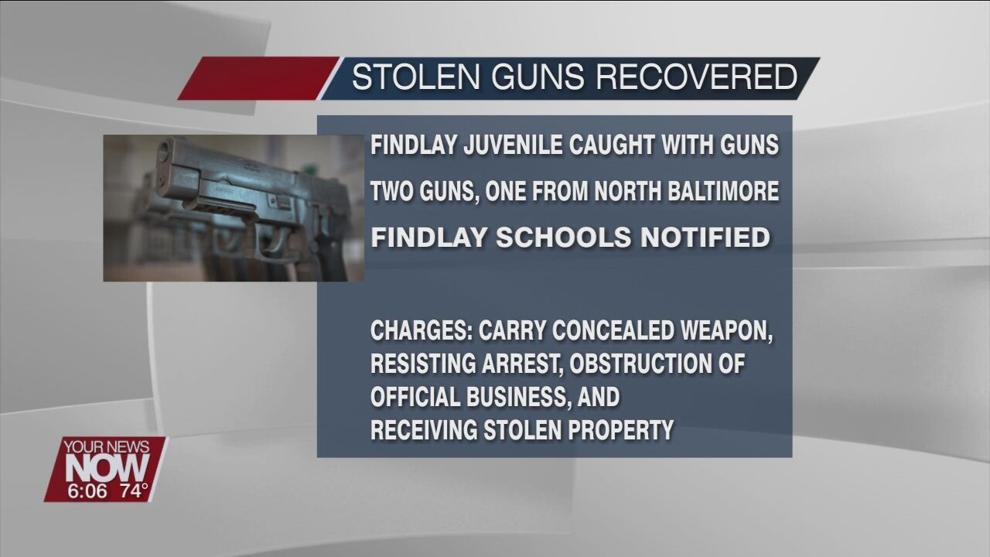 Findlay police have recovered two guns from the hands of a juvenile.
Officers say they were called to the Trenton Avenue Taco Bell for a report of a juvenile seen with a gun in his sweatshirt around 12:30 p.m. Monday afternoon. Once officers made it to the parking lot, the juvenile was told to take his hands of his pockets. He refused and ran away. Police caught up with him and later found out one of the two guns was reported stolen from North Baltimore. Findlay schools were also notified. The juvenile is at Wood County Juvenile Detention Center facing a variety of charges.
Media Release from Findlay Police Department: 10/4/2021 at 12:38 pm: Officers were called to Taco Bell, 701 W. Trenton Ave., for a report of a juvenile male in the restaurant with a gun. The caller advised that the grip of the gun could be seen in his sweatshirt pocket. Prior to Officers arrival the caller advised the juvenile male left and was now in the parking lot speaking to someone in a car.
Officers made contact with the male in the parking lot. The male was told to take his hands out of his pockets, but he refused and then began running away from Officers. The male was apprehended a short distance away. Two handguns were recovered from the male. One of the handguns was reported stolen out of North Baltimore, Ohio.
No one was injured in the incident. There were no threats made with the handguns and they were never brandished. The juvenile male was arrested for Carry Concealed Weapon, Resisting Arrest, Obstruction of Official Business, and Receiving Stolen Property. Additional charges may be forth coming due to the proximity of the Findlay City Schools. The male was incarcerated at Wood County Juvenile Detention Center.
Findlay Schools were notified of the incident.