The Ohio Department of Transportation is going to install the first roundabout in Van Wert County to make a dangerous intersection safer.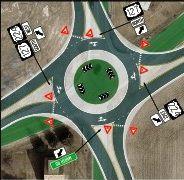 The District 1 office announced that they will be putting in a roundabout at the intersection of U.S. routes 127 and 224 at Marsh Road, which is just north of the city of Van Wert. It will be a single lane roundabout, and construction is scheduled to begin in 2022. The estimated cost for the roundabout project is a little over $2 million and will be funded through the gas tax increase. This intersection was ranked as the 29th most dangerous rural intersection in the state because of the severity and number of accidents that happened there.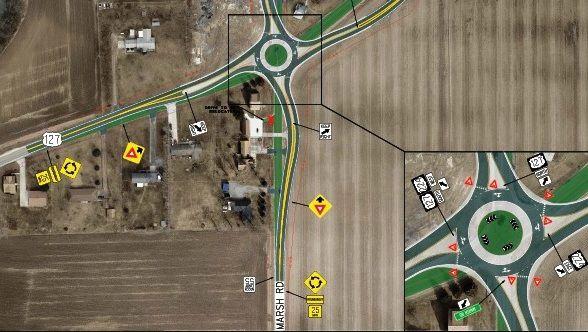 Media release from ODOT District 1 Office: LIMA, Ohio (Jan. 15, 2020) The Ohio Department of Transportation (ODOT) District 1 has chosen a single-lane roundabout design to improve safety at the intersection of U.S. 127/U.S. 224 at Marsh Road in Van Wert County. This option was the recommended alternative presented at a public meeting in November to improve intersection safety.
The decision was made after ODOT and its consultant, Fishbeck, Inc. of Columbus, gathered feedback on the alternatives during stakeholder meetings and a public meeting.
The project, scheduled for construction in 2022, will place a single-lane roundabout at the current intersection.
"The project is unique in that the goal of this project is entirely safety," said ODOT District 1 Deputy Director Chris Hughes. "Statistics from around the country show that converting a two-way stop-controlled intersection, such as this one, to a single-lane roundabout can result in a 40% reduction in total crashes, 75% reduction in injury crashes, and 90% reduction in fatal crashes," said Hughes.
For more information regarding roundabouts, view a video produced by the U.S. Department of Transportation Federal Highway Administration: https://safety.fhwa.dot.gov/intersection/innovative/roundabouts/
The estimated construction cost of the chosen option is $2.13 million. The project is funded by revenue from the gas user fee increase.
"We are addressing this intersection as part of Governor DeWine's initiative to use a portion of the new revenue to improve safety. For rural intersections, this one happens to be ranked number 29 in the state. The rate and the severity of crashes are much higher here than we would expect to see for an intersection with similar traffic volume," said Hughes.
The intersection is one of more than 150 statewide that have been selected by Governor DeWine for review and safety improvements. Improvements range from signal and signage improvements to a complete intersection redesign.
After securing additional funding for transportation infrastructure through the increased gas user fee, Governor Mike DeWine designated an additional $50 million annually for roadway locations, such as intersections, where a project could improve its safety. As a result of the increase, ODOT now has the third largest road safety program in the country. Over the next four years, ODOT will spend $158 million annually on preventing crashes on Ohio roads.
For more information, visit the project website: https://tinyurl.com/US127-US224-Marsh
The Ohio Department of Transportation maintains the state's largest man-made asset - the transportation system. ODOT's mission is to provide the safe and easy movement of people and goods from place to place. As a $3 billion per year enterprise, ODOT invests the bulk of its resources in system preservation through maintenance, construction and snow and ice operations.