Voting machines infiltrated by a hostile government. The cellphone of billionaire entrepreneur hacked by a foreign prince. A credit company losing millions of pieces of personal information in a data breach. These aren't stories pulled from science fiction —they're real headlines dealing with lapses in cybersecurity, which every person, business or public entity faces each time they venture online.
And it doesn't just happen to the wealthy or at the highest levels of government. Cities can be held hostage by ransomware attacks. Financial institutions can be hacked. Businesses can have sensitive client information stolen. And there aren't enough cybersecurity professionals working today to stop it.
"We have a real shortage from the standpoint of cybersecurity professionals," says Steve Stiles, assistant professor of Information and Emerging Technology at Rhodes State College. "I've read several articles recently where if you look worldwide, you're talking a shortage of four million people in the cybersecurity arena. So there's no question, there's a huge demand for it."
Rhodes State is working to fill that gap, in Ohio and beyond, through a Network Security major that teaches students to design and implement solutions enhancing online security. The need is especially acute in Ohio, where several municipalities have been attacked by ransomware, in which hackers shut down government systems until they receive a ransom.
"There's been an emphasis from the state on cybersecurity," Stiles says. "It's often needed at the local government level because a lot of those entities have been hit with ransomware. So consequently, those kinds of attacks really bring this to light."
In the cybersecurity arena, Rhodes State was well ahead of its time — Stiles, a former technology consultant, started the program 20 years ago when concerns focused on viruses being shared by floppy disks. Now, with internet access available to almost anyone by simply joining a wireless network, the vulnerabilities are far more numerous.
"When you start plugging a cable into something, you open yourself up to all kinds of things," Stiles says. "All these different devices we're putting on the network, whether that's programmable thermostats, doorbells, all that stuff was an afterthought as far as security goes. The more of those types of devices that come online, the more potential risks that you have. Even smaller companies are starting to see where people have broken into something because of these added network devices."
Rhodes State combats the problem through a comprehensive two-year course that takes students through every aspect of the field, from network and server foundational materials, to advanced network and server applications, to virtualization and security. There are even two courses that teach "ethical hacking," the practice of trying to infiltrate a network to determine its weaknesses.
"If you're a company that has any kind of resources, you need to protect them. The only way to do that is determine if you actually are vulnerable," Stiles says. "So that's where penetration comes into play. That's realistically what we do in the hacking courses. We have an environment that's isolated, so it's not part of the campus. It's all self-contained. Students will utilize various tools and scripts that cyber professionals might use to get into your systems, and detect vulnerabilities and know how to stop those types of events."
Rhodes State also offers a cybersecurity certificate for professionals in the field who want to stay current. The Network Security program, which includes field experience that's often an internship with a local company, is designed to favor practical experience over theoretical learning — a setup preferred by experts and potential employers in the field.
"We are probably as hands-on, or more hands-on than any institution in this area," Stiles says. "If you're really looking for practical experience, we're one of the premier programs in that area. To me it's almost like an apprenticeship program in a lot of ways, because we are teaching, and we're having students implement what is being taught, and we're working along with them."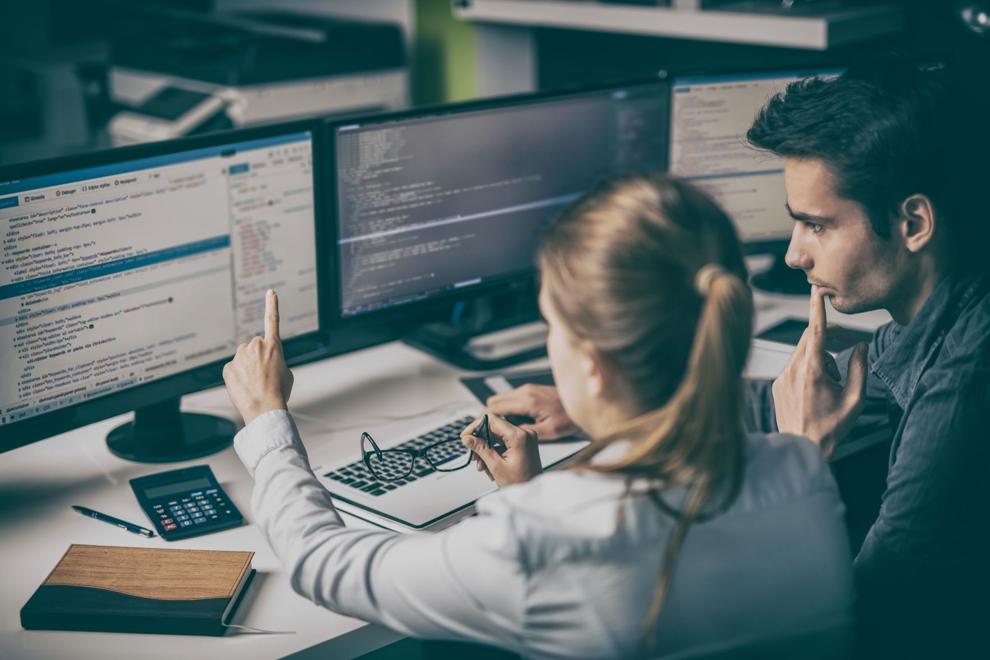 Given the shortage of qualified professionals, cybersecurity can be a lucrative field. Salaries for cybersecurity professionals range from $65,000 to $130,000 per year, according to LinkedIn, with a median salary of $92,000 annually. Entry level salaries can be $60,000 or more.
Graduates from the Rhodes State program have gone on to work for financial institutions, communications companies, security firms and the government, among other entities. The Network Security major also has an exceptionally high rate of placing students in jobs straight out of school.
"It would be very rare that we have a student who doesn't have a job in the networking arena after graduation," says Stiles.
Interested in learning more about the Network Security program at Rhodes State, and the job opportunities it affords? Contact admissions by phone at (419) 995-8320 or email at enroll@RhodesState.edu, or visit their website at www.RhodesState.edu.