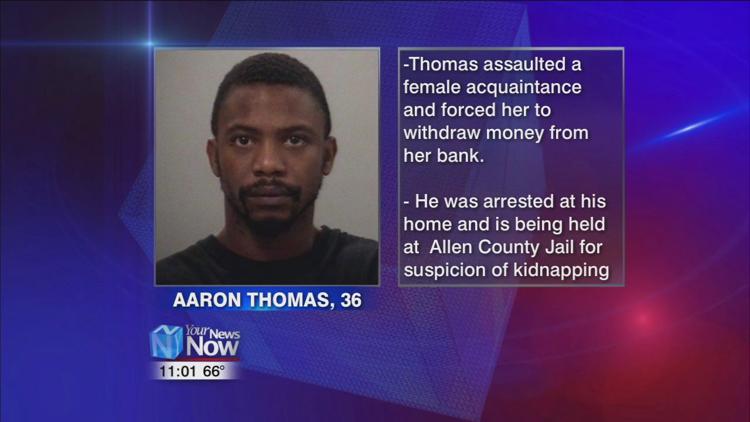 A Lima man is now in jail after a domestic dispute leads to a kidnapping early Sunday morning. The Lima Police Department responded to a fight at 813 Holly Street around 3 a.m.
According to LPD, 36-year-old, Aaron Thomas, assaulted a female acquaintance in the home. Then he forced her to go to her bank and withdraw money.
She was able to escape from Thomas and contacted the police. She went to Mercy Health-St. Rita with non-life threatening injuries.
Police headed to Thomas's house and learned there was a child inside the home with him, along with several firearms. The Allen County Sheriff's Department's Swat Team and the LPD Hostage Negotiation teams were called in.
The child was eventually removed safely and Thomas was taken into custody.
He is currently being held at the Allen County Jail for suspicion of kidnapping.
Media release from Lima Police Department: Sept. 1st 2:44 PM
At approximately 3:00 am this morning the Lima police department responded to a fight in progress at 813 Holly Street. Officers learned a short time later that the resident, Aaron Thomas (36 years old) had assaulted a female acquaintance. After the assault, Mr. Thomas forced the victim to go with him to her bank in an attempt to withdraw money from her account. The victim was able to flee from Mr. Thomas' car and contact the police department. The victim was transported to St. Rita's Medical Center and was treated for non-life threatening injuries.
Officers located Mr. Thomas' vehicle back at his residence but received no answer at the door. Due to information, officers were given about there being a child inside the residence and several firearms, the Allen County Sheriff's Department's Swat Team, along with the Lima Police Department's Hostage Negotiation Teams were called in. Over the course of several hours, the child was safely removed from the residence and Mr. Thomas was taken into custody.
Aaron R. Thomas is being held on Suspicion of Kidnapping at the Allen County Jail.