We have new information about a semi that drove through a house and into a gas station in Dunkirk.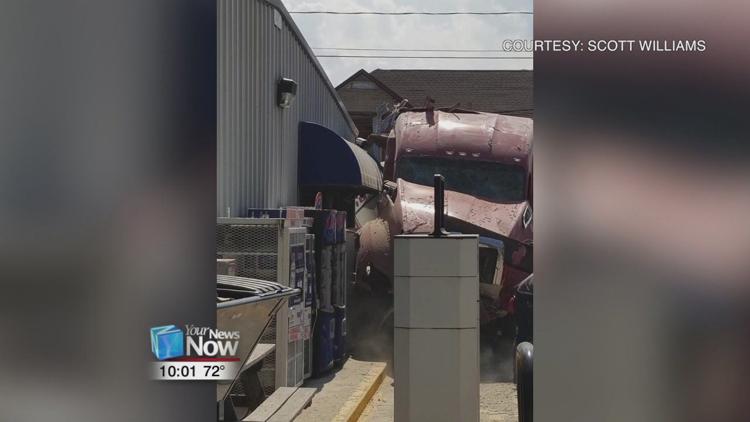 Our viewer Scott Williams sent in these photos of the crash. It happened near 81 and State Route 68 around 12:30 Friday afternoon. The Hardin County Sheriff's Office says the semi driver drove off the road and into the house. A man who was inside the house, Jerry Smith, was life-flighted to the hospital. The driver was also hurt and taken to the hospital. It's not clear what the injuries are for both of them.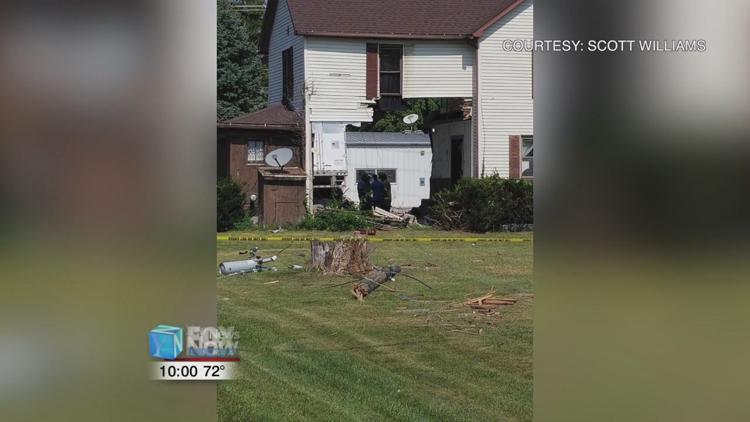 Route 68 was closed for four hours for clean up and the investigation. It now open again.
Press Release from the Hardin County Sheriff's Office
The Hardin County Sheriff's Office is currently investigating a motor vehicle crash that occurred in the Village of Dunkirk at approximately 12:20pm today. A north bound tractor trailer driven by Norris Freedman of Illinois left the right side of the roadway and proceeded to drive through an occupied home at 2512 US RT 68. After crashing through the home the tractor trailer came to rest in the parking lot of the South Side Six gas station. The occupant of the home, Jerry Smith of Dunkirk, was injured and flown by Lifeflight Helicopter to Lima St Rita's hospital. The driver of the semi was transported to Blanchard Valley Hospital in Findlay by ambulance. Conditions of both men are unknown at this time.
US RT 68 was closed for 4 hours for investigation and clean up purposes but is now reopened.
The Sheriff's Office was assisted by the Multi County Crash Investigation Team, Dunkirk Fire and EMS, BKP Ambulance District, Ada EMS, Forest Fire and EMS, Kenton Fire and EMS, The Hardin County Sheriff's Office Volunteers in Police Service (VIPS), ODOT, American Electric Power and Minich's Towing and Recovery.
The crash remains under investigation.
Your News Now at Six
Crews are still on the scene of a semi that drove through a house and into a gas station in Dunkirk.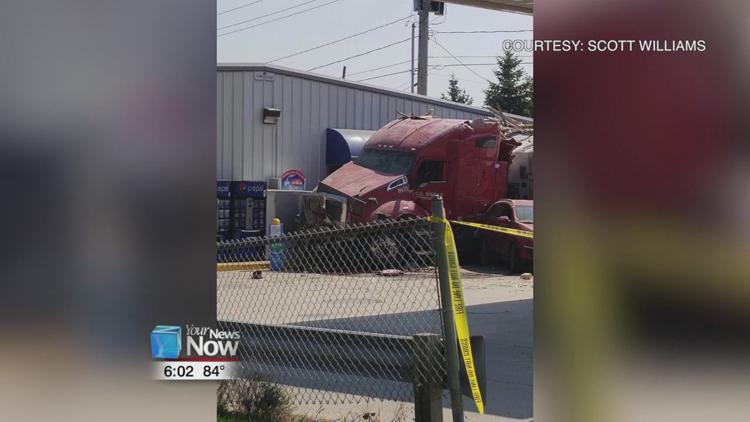 We want to thank Scott Williams for sending us pictures of the afternoon crash around the intersection of 81 and State Route 68. Nothing has been officially released, but we do know that a semi traveled through a home, clipped a power pole, and crashed into the gas station. Lifeflight was seen at the crash scene, it is unknown how many people were injured or how severe the injuries were. We will try and get more information for Your News Now 10 and 11.