West Central Ohio was well represented at the Ohio State Fair's Sale of Champions, and for one Allen County student, the experience was record-setting.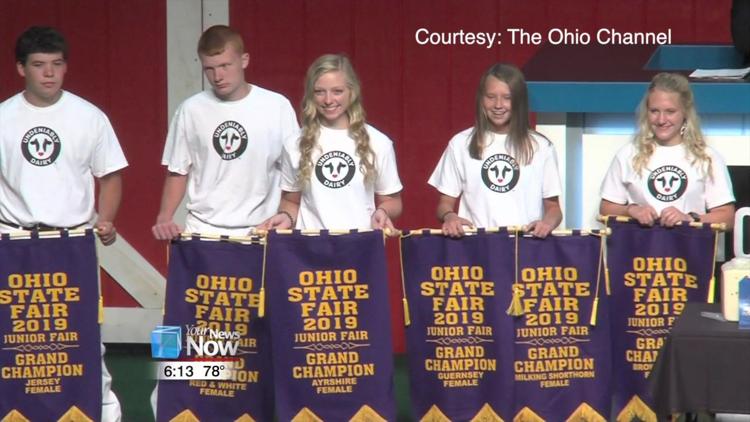 Delaney Jones' reserve grand champion market beef set a new auction record bringing in $56,000, three different buyers came together to make the record sale. Elizabeth Heintz of Hardin County had the grand champion market beef and it brought in $50,000. Logan County's Jada Shroyer's grand champion market goat went for $17,000. And Marissa and Madelyn Topp of Auglaize County, along with Aubree Topp and Blake Greiwe from Shelby County, were named dairy champions for their individual breed of dairy cows.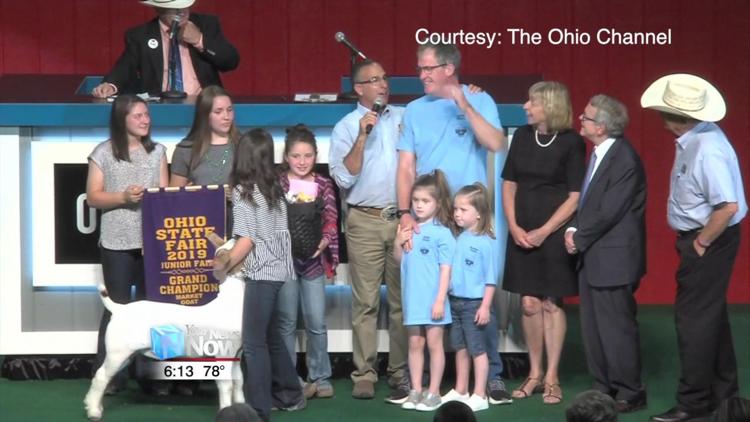 The champion livestock at the Ohio State Fair was auctioned off for a total of $328,000.
Press Release from the Ohio State Fair
COLUMBUS – The Ohio State Fair Sale of Champions livestock auction, held this afternoon in the WCOL Celeste Center, showcased Ohio's premium livestock, premier Junior Fair exhibitors and generous supporters. On the sale bill were grand champion and reserve champion market beef, market barrows and market lambs, as well as grand champion market goat, grand champion and reserve champion market chickens, grand champion market turkey and a block of Swiss cheese to represent the seven dairy champions. In full, the livestock was auctioned for a total of $328,000.
"The Sale of Champions celebrates the hard work and dedication of the Junior Fair livestock exhibitors, whose efforts have led up to this moment," said Ohio Governor Mike DeWine. "It's a day they will remember their entire lives. I'd like to offer a sincere thank you to the many generous buyers who support not only these champions but junior exhibitors of the future who benefit from funds raised today for the Youth Reserve Program."
"Our supportive buyers not only help these individual exhibitors, but also support the thousands of youth exhibiting each year through the Fair's Youth Reserve Program," explained Ohio State Fair General Manager Virgil Strickler. "These buyers make a huge impact on all young exhibitors here at the Fair, whether they are participating in the All-Ohio State Fair Band and Youth Choir, a sewing competition, or exhibiting their animals. Today, the buyers funded $239,500 for the Youth Reserve Program to be spread among our youth."
While these Junior Fair exhibitors take great pride in raising a quality animal, the ultimate goal each year is to be awarded a grand champion ribbon. Grand or reserve champion is an immense honor for the exhibitor; and with the Youth Reserve Program and generous buyers, it is rewarding for the entire Junior Fair program. This year's sale broke four records: reserve grand champion market beef, reserve grand champion market barrow, reserve grand champion market lamb and grand champion market turkey.
Established in 1995, the Youth Reserve Program's was developed to reward junior exhibitors who participate in the Ohio State Fair. Funds for the program come from the dollars received over a cap that is placed on the amount an exhibitor can receive from the Sale of Champions. The funds from the program are distributed among carcass contests, scholarships, outstanding market exhibitor program, outstanding breeding exhibitor program, showmanship, skillathons, 4-H and FFA. Prior to the 2019 Ohio State Fair's opening, the Youth Reserve Program had awarded $3,533,315 to approximately 40,000 youth exhibitors since its inception.
The 2019 Sale of Champions results are as follows:
Grand Champion Market Beef
Exhibited by: Elizabeth Heintz, Hardin County
Purchased by: Steve R. Rauch, Inc.
Price: $50,000
Cap: $22,000
*Reserve Grand Champion Market Beef
Exhibited by: Delaney Jones, Allen County
Purchased by: Steve R. Rauch, Inc., Mark and Megan Kvamme, Meijer Price: $56,000
Cap: $11,000
Grand Champion Market Barrow
Exhibited by: Elijah Keplinger, Clark County
Purchased by: Bob Evans, Ohio Farm Bureau, Tim and Glenda Huffman, Ohio Harness Horseman's Association, Event Marketing Strategies Price: $33,000
Cap: $10,000
*Reserve Grand Champion Market Barrow
Exhibited by: Riley Wendt, Union County
Purchased by: The Kroger Company
Price: $35,000
Cap: $7,000
Grand Champion Meat Chickens
Exhibited by: Ava Hester, Clinton County
Purchased by: Gerber Poultry, The Kroger Company
Price: $15,000
Cap: $6,000
Reserve Champion Meat Chickens
Exhibited by: Jozie Jones, Clinton County
Purchased by: Tim and Glenda Huffman
Price: $14,000
Cap: $4,000
Grand Champion Market Lamb
Exhibited by: Paige Pence, Clark County
Purchased by: AG Boogher and Son, S&S Volvo
Price: $36,000
Cap: $10,000
*Reserve Grand Champion Market Lamb
Exhibited by: Grant Johnson, Wayne County
Purchased by: Meijer
Price: $27,500
Cap: $7,000
Grand Champion Market Goat
Exhibited by: Jada Shroyer, Logan County
Purchased by: Mark and Megan Kvamme
Price: $17,000
Cap: $5,000
*Grand Champion Market Turkey
Exhibited by: Johnathan Woodward, Coshocton County
Purchased by: Cooper Farms, Farmer Boy Ag, Sarka Electric, Dangler Excavating, Kale Marketing
Price: $16,500
Cap: $3,000
Grand Champion Swiss Cheese, produced by Pearl Valley Cheese County, representing the seven dairy champions and supreme dairy showmen
Exhibited by:
Grand Champion Ayrshire: Marissa Topp, Auglaize County
Grand Champion Brown Swiss: Madelyn Topp, Auglaize County
Grand Champion Guernsey: Aubree Topp, Shelby County
Grand Champion Holstein: Kayla Cring, Huron County
Grand Champion Jersey: Blake Greiwe, Shelby County
Grand Champion Red and White: Wyatt Schlauch, Holmes County Grand Champion Milking Shorthorn: Aubree Topp, Shelby County Supreme Showman, Week 1 – Exhibited by: Ashley Hawvermale, Wayne County
Supreme Showman, Week 2 – Exhibited by: Molly Moffet, Ashland County
Purchased by: AG Boogher and Son, S&S Volvo, Ohio Dairy Association Mideast, Hills Supply, Brewster Cheese, Biery Cheese, Great Lakes Cheese, Cox Concessions, Burkhart Farm Center, Velvet Ice Cream Prengers, Pearl Valley Cheese Dairy Farmers of America, and Scioto Cooperative Milk Producers
Price: $28,000
Cap: $3,500
2019 total sale: $328,000
2019 amount earned for Youth Reserve Program: $239,500
*Denotes new record