A Celina domestic violence suspect who has been on the run January has been captured.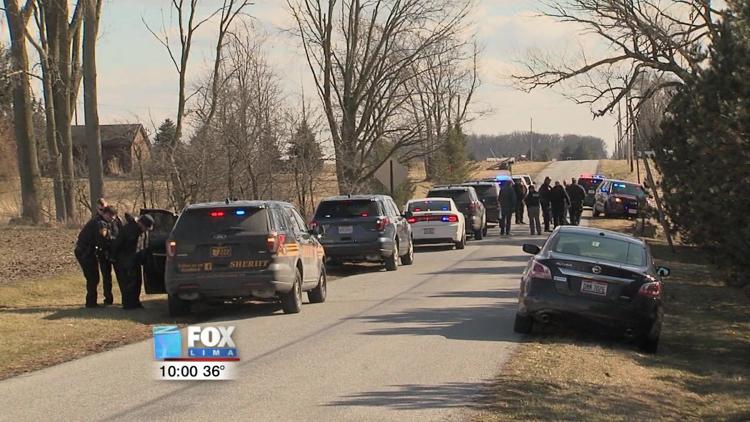 According to the Celina Police Chief Tom Wale, 43-year-old Mitchell Mullins was captured on Southworth Road outside of Landeck late Monday afternoon.
The police department was notified Monday that Mullins was with his wife and victim, Jessica Mullins. A detective located the vehicle that they were in and followed them. Mullins jumped out of the car and hid along a creek. Law enforcement from Mercer, Allen, and Auglaize County was called in to help contain the area and a K-9 from Allen County was sent in to find Mullins, who gave up peacefully.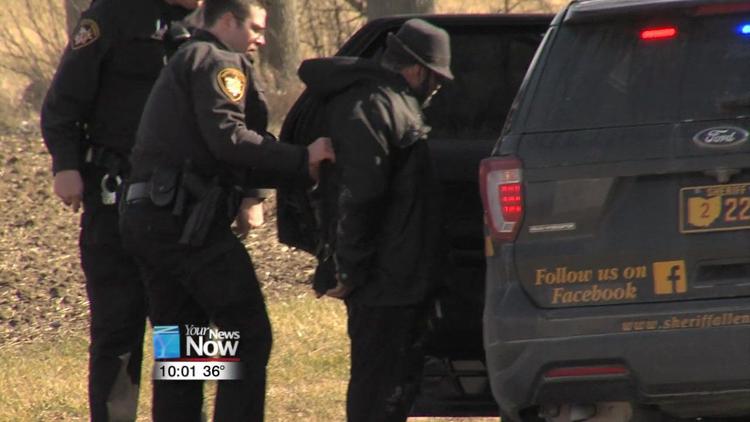 The police department said on January 18th, Mullins brutally beat his wife Jessica and sent her to the hospital. Mullins was on parole at the time and has been charged with felonious assault.
News Release from the Celina Police Department - 01/18/2019
On Friday, 1-18-2019 at 12:48 AM Celina Police officers responded to a report of domestic violence at 125 N. Enterprise St. Upon arrival officers found 38 year old Jessica Mullins badly beaten. An adult child was with her waiting for help.
The investigation revealed that while the family was working on a puzzle that Ms. Mullins' husband, 43 year old Mitchell Dale Mullins, suddenly and without provocation brutally attacked his wife. He assaulted her with closed fists and once she was on the ground, he kicked her until she was no longer conscious. During the attack he held her down to keep her from leaving and dragged her around. Mitchell Mullins then fled the scene. Jessica Mullins was transported by ambulance to a local hospital and then transferred to another medical facility with serious head injuries.
Mitch Mullins is still at large and was last seen driving a white Chevrolet Suburban, unknown license plates. Mullins is described as 5'05", 200 pounds, brown hair and brown eyes. He is also known to shave his head, which is covered in tattoos. Mullins is a dangerous man, known to act impulsively and violently towards anyone. He has had weapons in the past, however, it is not known if he is currently armed. He has a lengthy criminal history of violence with a prison record. He is currently on parole from prison and is wanted by the Ohio Adult Parole Authority as a result of this incident.
Charges have been filed against Mitchell Dale Mullins for Domestic Violence, a felony of the third degree. The case is currently under review by the Mercer County Prosecutor, Matthew K. Fox for possible additional charges.
If you see Mitch Mullins – do not approach – do not attempt to apprehend him – contact your local law enforcement immediately.
***UPDATE (1-18-19 10:35 AM): The vehicle is a white, 1995 GMC Suburban with Ohio license plates GLL4201.
He purchased this vehicle on 1-16-2019. The plates do not belong to him.
***UPDATE (1-18-19 11:55 AM): There is reason to believe that Mitch Mullins in armed with at least two firearms. DO NOT APPROACH!
APPREHENSION: 3-18-2019
On Monday, 3-18-2019, detectives from the Celina Police Department and the Mercer County Sheriff's Office working in cooperation were able to develop information of the whereabouts of Mitch Mullins. Celina Detective Steve Yoder located a suspect vehicle, a white van owned and operated by Jessica Mullins, the victim and spouse of Mitch Mullins. Detective Yoder kept the van under surveillance, following it for several miles awaiting for sufficient back up to arrive.
Mitch Mullins fled from the van in the area of Southworth Rd. just south of Landeck Rd. in Allen County. Officers from Celina P.D., Delphos P.D., Spencerville P.D along with Deputies from Allen, Auglaize and Mercer County Sheriff's Offices were on scene as well as the Grand Lake Drug Task Force. A perimeter was established then a K-9 Deputy with Allen Co. Sheriff's Office performed a track of the area and located Mitch Mullins hiding in a brush pile about 100 yards from Southworth Rd. He was taken into custody without incident.
The Celina P.D. would like to thank all agencies involved for their quick response and assistance in the safe apprehension of Mitch Mullins.