Update: https://www.hometownstations.com/news/alleged-oakwood-bank-robber-caught-in-florida/article_723de608-d5aa-11e9-81ef-3ba321017ac0.html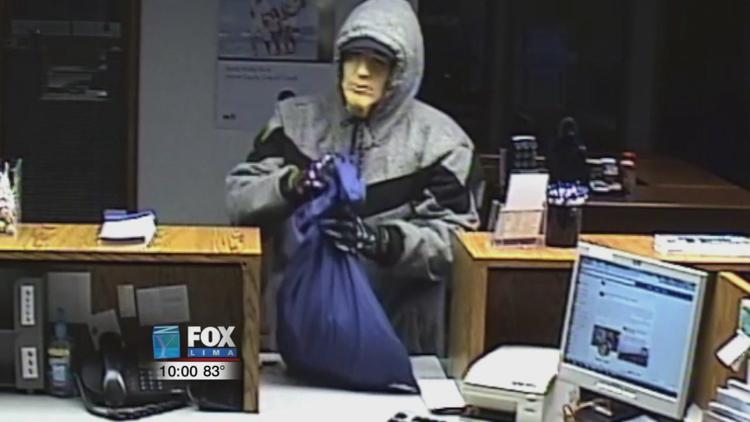 Press release from Paulding County Sheriff: Updated 6:47 pm
Oakwood, Ohio—An arrest warrant has been issued for David Abram Ziesel, age 40, from West Palm Beach, Florida. Ziesel is currently on federal probation in West Palm Beach for an Armed Bank Robbery.
The warrant is for one count of Aggravated Robbery, a Felony of the First Degree. Ziesel was last seen leaving the State Bank in Oakwood, Ohio, around 9:14 a.m. today's date. He was driving an early 2000's model Chevy Cargo Van, possibly with Indiana registration VTH394. That license plate returns to a different vehicle and is expired, but returns to the suspect.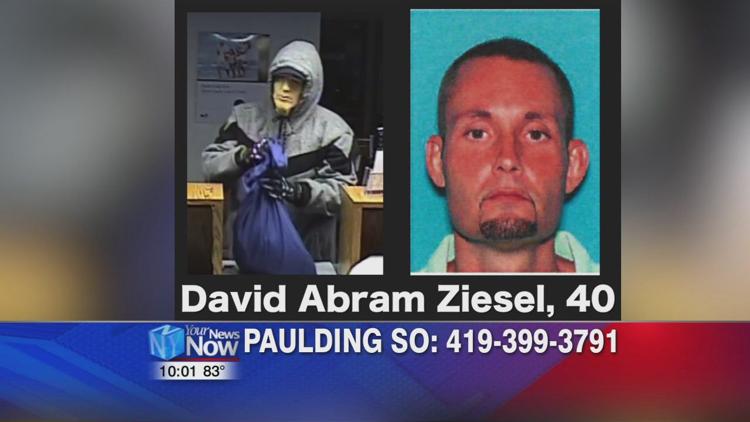 Ziesel was seen earlier in the morning wearing dark baggy sweat pants, a long-sleeve blue Chicago Bears t-shirt, and dark tennis shoes.
"Ziesel will be considered armed and dangerous until he is apprehended, even though he didn't brandish a weapon. I credit the cooperation of several agencies acting quickly and communicating timely to leading to this point in the investigation," said Sheriff Jason K. Landers. "My investigators will continue working with agencies across the state and country to track this guy down. The Fulton County Sheriff's Office in Ohio has been instrumental in our investigation. Their agency interacted with Ziesel yesterday, and I couldn't thank them enough for their assistance in our case today."
Paulding County Sheriff's Office continues working alongside the Oakwood Police Department and the FBI.
If anyone has information regarding this investigation or any other crime, please contact the Sheriff's Office at 419-399-3791. You can also leave information via Facebook by searching Facebook/Paulding County Sheriff's Office or view our website at www.pauldingohsheriff.com and leave an email for the Sheriff. You may also leave an anonymous tip via the website by scrolling to the bottom of any page and clicking on "send us an anonymous tip."
News Story from 6 pm news:
A bank robber is at large after hitting an Oakwood Ohio bank Wednesday morning.
The Paulding County Sheriff's Office released a picture of a suspect who robbed the State Bank around 9 o'clock. The suspect was wearing a jacket with a hood, gloves, ball cap, and a mask. Only two tellers were in the bank at the time of the robbery. The suspect didn't use a weapon, but the sheriff office says he could have one. He got in a white cargo van, possibly with an Indiana registration and drove away with an undisclosed amount of money. But scanner traffic mentioned it could be around $15,000.
If you have any information about the robbery you are asked to contact the Paulding Sheriff's Department at 419-399-3791.
Press Release from Paulding County Sheriff's - 9/11/2019
Oakwood, Ohio—Today shortly after 9:00 a.m., deputies were dispatched to 218 North First Street, Oakwood, Ohio, regarding a bank robbery.
A man entered the bank around 9:12 a.m. dressed in dark pants, a light-colored hooded jacket with a black stripe. He was wearing a mask over his face with a ball hat on and had black gloves on. He was carrying a blue bag. The suspect fled with an undisclosed amount of cash.
There were no customers in the bank at the time of the robbery. Neither of the two bank tellers was injured. The suspect could have had a weapon in his possession but did not brandish it.
A potential getaway vehicle is a white 2000's model Chevy cargo style van. The van has black rims and paints chipping away from the top. It could have an Indiana registration on the back.
"My investigators are following some leads right now. They are working with multiple agencies. I am glad no one was hurt as a result of this senseless crime," said Sheriff Jason K. Landers. "If any has information related to this crime, please call us."
Paulding County Sheriff's Office is the lead investigators working alongside the Oakwood Police Department. The FBI is involved as well.
If anyone has information regarding this investigation or any other crime, please contact the Sheriff's Office at 419-399-3791. You can also leave information via Facebook by searching Facebook/Paulding County Sheriff's Office or view our website at www.pauldingohsheriff.com and leave an email for the Sheriff. You may also leave an anonymous tip via the website by scrolling to the bottom of any page and clicking on "send us an anonymous tip."