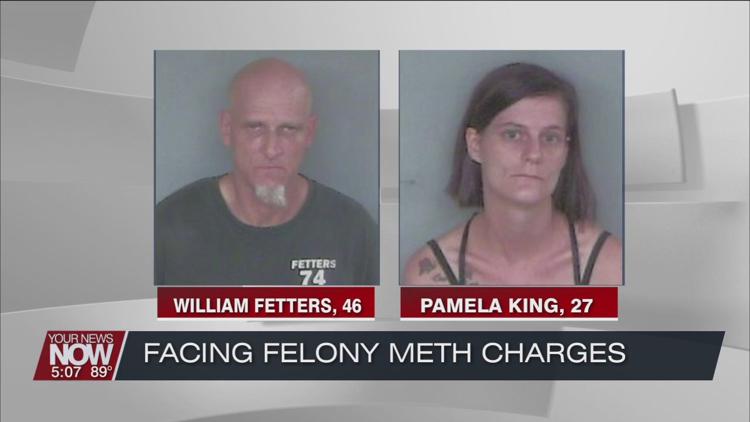 A traffic stop for a suspended license leads to the arrest of 2 people on drug charges.   
According to the Mercer County Sheriff's Office, William Fetters, 46 of Rockford, and Pamela King, 27 of Lima, have each been charged with Possession of Methamphetamine. Wednesday night, deputies saw Fetters driving a car, who they knew had a suspended license, when they pulled him over. Deputies suspected there was drugs in the car. A K9 was called in and they found marijuana, prescription pills, and a white powder that turned out to be meth. 
Fetters and King have bonds set at $100,000 (10% surety) and $50,000 respectively. Fetters was also charged with driving under suspension.
Media Release from Mercer County Sheriff's Office 7/2/20: Mercer County Sheriff, Jeff Grey reports the arrest of two (2) individuals on drug related charges.  Grey advised that one of his deputies conducted a traffic stop on July 1st, 2020 at 7:07 PM. A deputy observed a male subject who was known to her to have a suspended license.  During the traffic stop, the deputy suspected the possibility of narcotics within the vehicle and called for a K-9 Officer, who arrived and conducted a "walk around".  The K-9 alerted to the car and a search was conducted.   Marijuana, prescription pills, white powder and drug instruments were found inside the car.  There was a preliminary test conducted on the white powder, which indicated that it was methamphetamine. 
The deputies called the Mercer County Prosecutor's Office for legal advice.  After consulting with the prosecutor's office both occupants of the vehicle were arrested.   Arrested was 46 year William R Fetters of 419 N Holly Street #17 Rockford, Ohio.  Fetters was arrested felony charges of Possession of Methamphetamine as well as charges of Driving Under Suspension.   Also arrested was the passenger, 27 year old Pamela Renee King of Lima, Ohio with no street address provided.  King was arrested on felony charges of Possession of Methamphetamine.   The owner of the car, 67 year old Carolyn Fetters was also cited for Wrongful Entrustment for allowing an unlicensed driver to drive her car.
Deputies contacted Celina Municipal Court Judge, Kathryn Speelman for bond. Fetters bond was set at $100,000.00, subject to 10%.  King's bond was set at $50,000.00 subject to 10%. 
Deputies were assisted at the scene by Rockford PD and the Coldwater Police Department K-9 Unit.