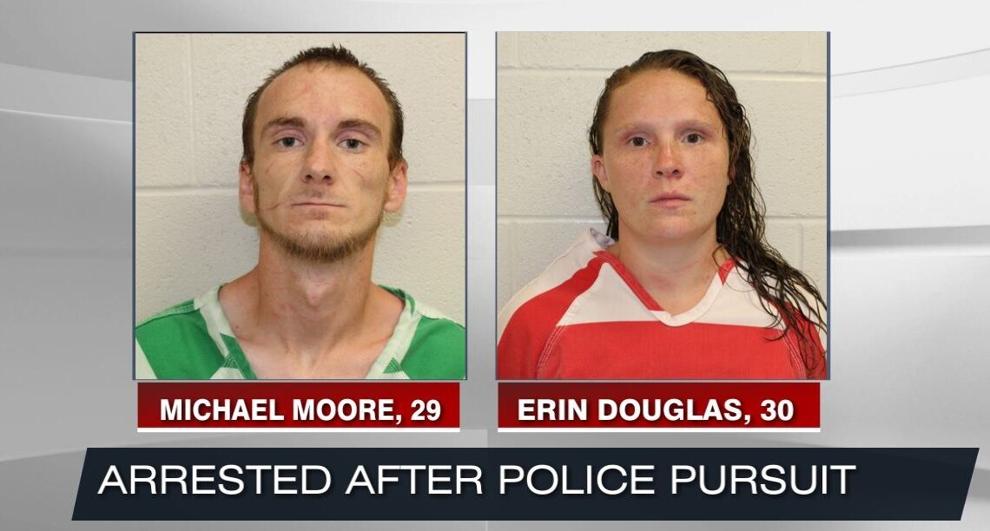 Two people from Hardin County were arrested after a police chase Thursday night in Putnam County.
29-year-old Michael Moore of Mount Victory and 30-year-old Erin Douglas of Kenton were arrested in Pandora Thursday night following the chase. According to Putnam County Sheriff's Office, officers from the Ottawa Police Department tried to pull Moore over, but he took off. The pursuit went into Hancock County before coming back into Putnam County, Moore pulled in behind Pandora-Gilboa School and he and Douglas got out of the car and ran into a woods. The sheriff's K-9 unit tracked Erin Douglas and arrested her. Moore gave up without incident. Charges are pending against Moore and Douglas, two other people in the car were released without charges.
Correction/Edit- Incorrect mugshot of one of the suspects was sent.
Media release from Putnam County Sheriff's Office: On June 10, 2021 at approximately 2348 hours, Ottawa Police Department attempted to stop a 1995 Cadillac El Dorado that was driven by Michael Jeffrey Moore.  Michael Moore failed to comply with the lawful order of the police.  The pursuit traveled into Hancock County and then back into Putnam County.  The vehicle came to a stop behind Pandora-Gilboa Schools.  The driver, Michael Jeffrey Moore, 29 of Mount Victory, Ohio, and Erin Lee Sue Douglas, 30 of Kenton, Ohio, fled from the vehicle into a nearby wooded area.  Erin Douglas was apprehended by The Putnam County Sheriff's Office K9 unit.  Michael Moore was placed into custody without incident.  Two unnamed passengers were released without charges.  Charges are pending on Michael Moore and Erin Douglas.  
Assisting agencies in the vehicle pursuit were the Pandora Police Department, Columbus Grove Police Department, Ohio State Highway Patrol, Pandora EMS, Putnam County EMS, and Immpressive towing.