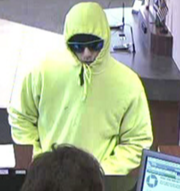 *Update* Press Release from Allen County Sheriff's Office: On 1-28-2020 at about 10:39 AM, our office received a 911 call from a Chase Bank employee, stating that the business had been robbed. The suspect, who was described as a white male, approximately 6' tall with a medium build, was wearing a neon yellow hoodie, blue jeans, and sunglasses. The hood was pulled up a drawn tightly around suspects face. Upon entering, the suspect immediately approached a teller and demanded money. The suspect did not display a firearm but did have one hand concealed in his sweatshirt pocket during the robbery. The suspect immediately fled the area on foot after he was given an undetermined amount of money. Sheriff's Office Patrol Units, K-9's and Drones were utilized in the search for the suspect but were unsuccessful. The FBI is also assisting in the ongoing investigation. Additional information will be released as the investigation allows. Photos taken from Chase Bank Security systems are attached. Anybody with any information related to this crime is asked to contact Lieutenant Dan Howard at 419-227-3535 or Crime Stoppers 419-229-STOP (7867).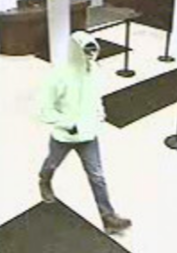 Your News Now at Six - 1/28/2020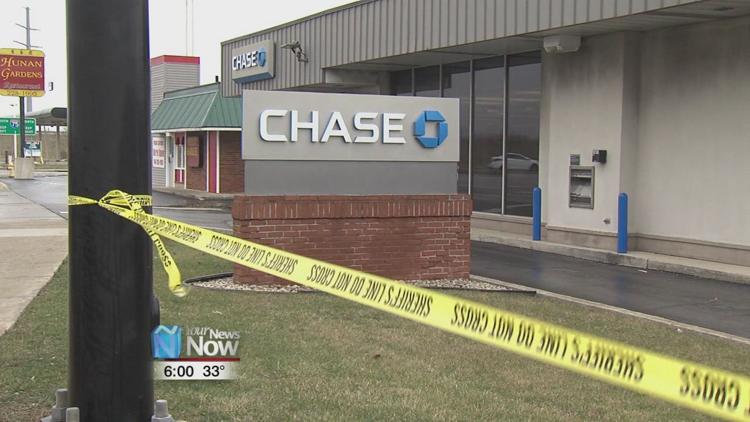 The Allen County Sheriff's Office is searching for a suspect who robbed the Chase Bank on Harding Highway.
The sheriff's office got the call just after 10:30 a.m. Tuesday morning. The suspect was described as a white male wearing blue jeans, a neon yellow sweatshirt, and sunglasses. He came into the bank and demanded money from a teller, but according to scanner traffic did not show a weapon during the robbery and no one was injured. Then the suspect ran into the Lost Creek subdivision. Deputies searched the area and even sent up a drone to aid in the search, but no arrest has been made.
If you know anything about the robbery you are asked to contact the Allen County Sheriff's Office at (419) 227-3535.