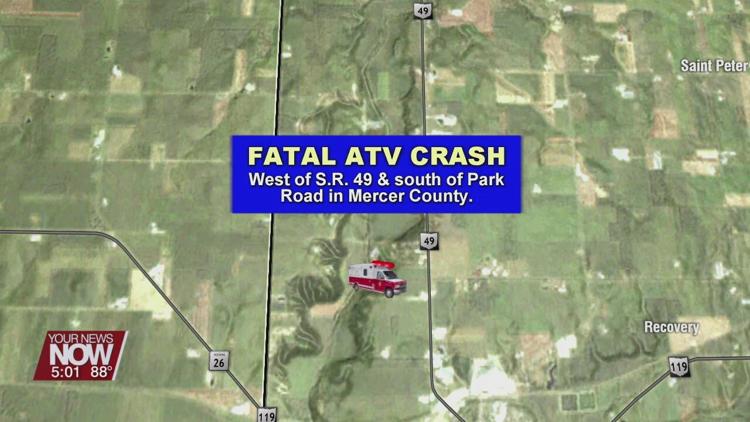 A six-year-old boy is dead after an ATV accident in Mercer County last night.
Deputies say Sawyer Overman was killed in the crash. He was driving the Polaris Ranger around 7:30 p.m. Monday evening with his 8-year-old brother onboard, heading down a gravel road between two fields west of State Route 49, near Park Road. Sheriff Jeff Grey says the younger Overman lost control of the vehicle, overcorrected, and went off the road where he was ejected, and pinned under the ATV. His brother freed himself and ran off for help. Several adults responded and tried to resuscitate the six-year-old before he was rushed to the hospital by an ambulance where he later died. The eight-year-old had minor injuries.
Press Release from Mercer County Sheriff's Office: Mercer County Sheriff, Jeff Grey reports that his office received a 911 call at 7:38 PM on Monday, June 1st, 2020. The caller reported an ATV crash that had occurred on in a field. The incident took place in Recovery Township west of State Route 49 and south of Park Road.
The investigation found that two (2) brothers, ages 6 and 8 were in a 2011 Polaris Ranger (ATV) driving down a gravel drive between two fields. The 6 year old was operating the ATV, he was identified as Sawyer D. Overman. Sawyer went off of the right side of the gravel road, over corrected, lost control and went off of the left side of the gravel lane. The ATV overturned and ejected Sawyer, who was pinned under the ATV. His 8 year old brother was able to free himself from inside the ATV and went to seek help.
Several adults responded and attempted resuscitation efforts until St. Henry EMS arrived. Sawyer was transported to Mercer Health in Coldwater, by St. Henry EMS where he was pronounced deceased a short time later. The 8 year old sustained minor injuries and was treated at Mercer Health as well.
Deputies were assisted at the scene by member of the St. Henry EMS and Fort Recovery Fire Department.