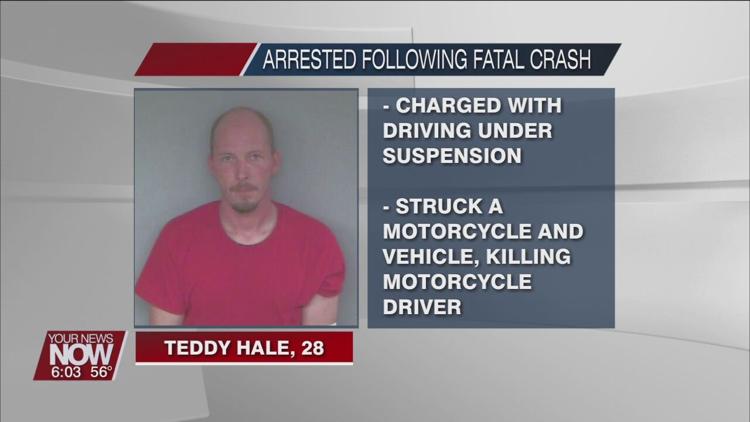 A Bradfield, Ohio man was arrested following a fatal accident in Celina Sunday afternoon.
28-year-old Teddy Hale is being held on a half a million-dollar bond on the charge of Driving Under Suspension. The Celina Police Department says Hale was driving on North Main Street just before 4:30 p.m. and failed to stop for a motorcycle that was slowing to a stop for a car that was making a turn in front of them.
The driver of the motorcycle, 62-year-old Yvonne Noel of Coldwater, was ejected and taken to the hospital where she was pronounced dead. Hale also severely damaged the car that was making the turn. Hale and the other driver had minor injuries.
The case is being reviewed by the Mercer County Prosecutor for possibly more charges.
Celina Police Department: media release 09/28/2020: The Celina Police Department is investigating a fatal traffic crash which occurred on September 27, 2020 at about 4:20 PM. The crash involved 2 cars and a motorcycle in the 900 block of S Main St. (US127).
The 3 vehicles were northbound, just north of Schunk Rd. The lead vehicle, a 2008 Pontiac driven by Zachary Stephenson of Celina was stopped waiting to make a left hand turn into a business. The second vehicle, a 2006 Honda motorcycle, was driven by 62 year old Yvonne Noel of Coldwater. She was slowing to stop behind the first car. The 3rd vehicle, a 2012 Chevrolet Impala, driven by Teddy Hale, 28 years old of Bradford, Ohio, failed to stop before striking the rear of the motorcycle.
The motorcycle was struck from behind at what appears to be about highway speed. The rider was ejected from the motorcycle. The Hale vehicle continued into the the lead vehicle causing heavy damage to all 3 vehicles.
Yvonne Noel was pronounced dead at Coldwater Hospital. The drivers of the other two vehicles had apparent minor injuries.
This appears to be a case of possible distracted driving, however, it does remain under investigation. Teddy Hale was held in the Mercer County Jail on charges of driving under suspension with a $500,000 bond. The case is currently under review by Mercer County Prosecutor Matthew Fox and further charges are expected.
The Celina P.D. was assisted by the Mercer County Sheriff's Office, the State Highway Patrol and the Celina Fire Dept.