Media Release from Ohio Arts Council and Lima Catholic Schools
Announcing your 2019 Ohio Poetry Out Loud State Champion, Anna Kahle of Lima Central Catholic!
She will be traveling to Washington, D.C., April 29- May 1 to represent our state at the Poetry National Finals! Poetry Out Loud (POL) encourages students to learn about great poetry through memorization and recitation. This program helps students master public speaking skills, build self-confidence, and learn about literary heritage and contemporary life. Created by the National Endowment for the Arts and the Poetry Foundation, Poetry Out Loud is administered in partnership with the State Arts Agencies of all 50 states, the District of Columbia, the U.S. Virgin Islands, and Puerto Rico.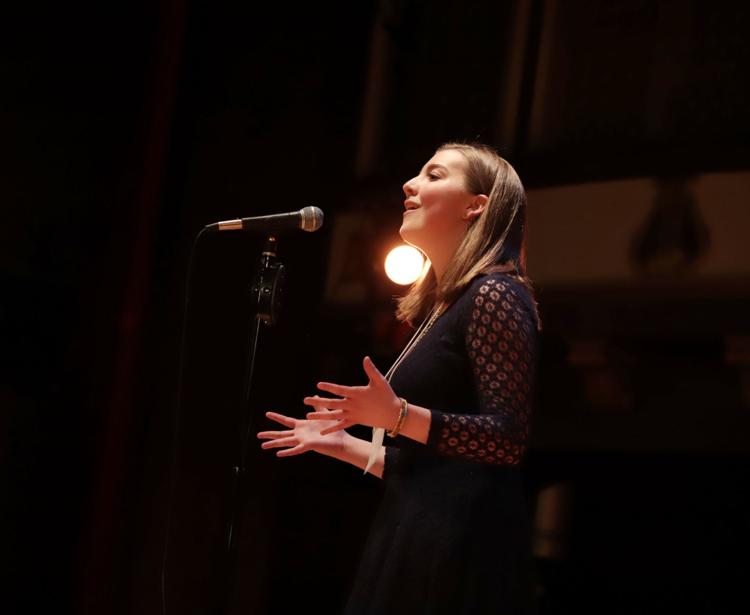 Anna Kahle, a junior at Lima Central Catholic High School, was named the 2019 Ohio Poetry Out Loud (POL) state champion March 8 at Ohio's 14th annual POL state finals competition. As the state champion, Kahle earned an all-expense-paid trip to the 2019 national finals, held April 30 – May 1. The national competition will feature students from every state as well as Puerto Rico, the Virgin Islands, and Washington, D.C. The total award pool is $50,000, including a $20,000 top prize for the national champion. In addition to the trip to nationals, Kahle also received a $300 prize, and the Lima Central Catholic High School library will receive $500 to purchase poetry books. This is Kahle's third year participating in the Ohio POL state finals. Kahle's winning performance consisted of three poems: "Enough" by Suzanne Buffam, "Now I Pray" by Kathy Engel, and "Early Affection" by George Moses Horton.
Thirteen Ohio finalists competed at the state finals for the title of state champion following their participation in one of six regional semifinal events.
Dylan Abel of Bexley High School earned second place at the state finals. He received a $200 prize, as well as $200 for his school library.
Emily Enyame of Westerville Central High School placed third in the competition and received a $100 prize and $100 for her school library.
Find more information about POL at poetryoutloud.org.
A livestream of the national finals will be made available at arts.gov April 30 and May 1.
A full list of students participating in the 2019 Ohio POL state finals follows:
Zoe Douglas, North Royalton High School
Dylan Abel, Bexley High School
Gracie Miller, Logan High School
Emily Enyame, Westerville Central High School
Scarlet Frishman, Toledo School for The Arts
Madelyn Feeney, Seton High School
Anna Kelly, Kettering Fairmont High School
Kirsten Stinson, John Glenn High School
Anna Kahle, Lima Central Catholic High School
Alexander Flood, The Lyceum
Lia Repucci, Upper Arlington High School
Agnes Guiselin, Chaminade Julienne Catholic High School
Riley Brown, Mount Notre Dame High School