Now that December is here, everyone wants to know if this will be a white Christmas! While it is FAR too early to answer that question, I thought it would be interesting to discuss how our overall pattern may shape up through this first month of meteorological winter. While a detailed, daily forecast becomes difficult beyond a week out, we can reasonably predict atmospheric teleconnections out to a few weeks. The behavior of these pattern drivers can give us strong hints as to whether it will be super mild or frigid cold. 
Let's dive right in! Two of the bigger drivers in our winter weather are the EPO (East Pacific Oscillation), and NAO (North Atlantic Oscillation). If you haven't noticed, we sure love our acronyms in meteorology! For cold and snow, you want to see either of these indices go negative. Positive phases are more likely to produce warmer weather.
Let's look at the EPO. This teleconnection is currently in the positive phase. The EPO is predicted to briefly dip negative next week, then it looks to trend way positive toward the 10th-15th of December. As mentioned above, a negative EPO is what you want to increase cold and snow potential. The positive phase indicates a trough near the Gulf of Alaska, with a strong Pacific jet stream flooding mild air into the Lower 48.  At face value, this favors a window of cold weather next week, then a long stretch of mild days developing toward the middle of the month. Note the trend closer to neutral or negative toward the 20th? That could signal a change developing around then.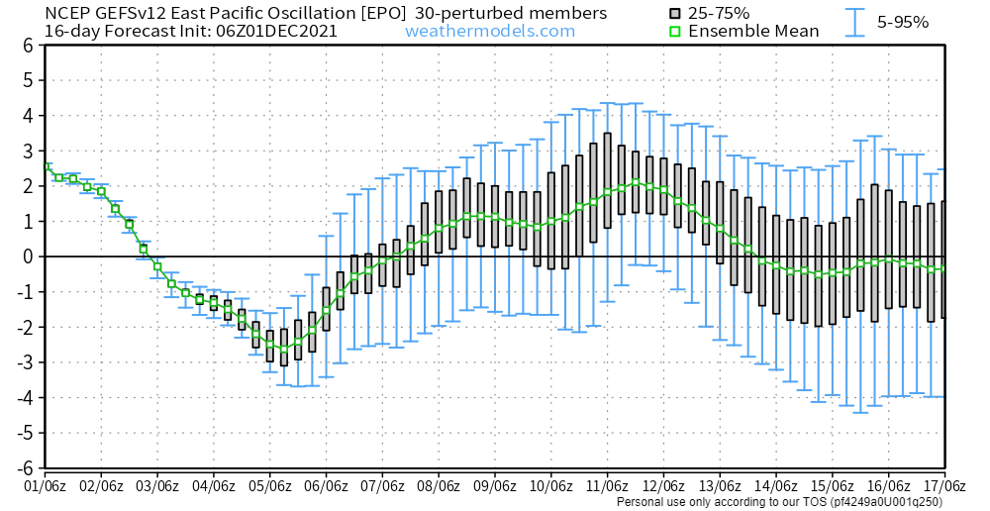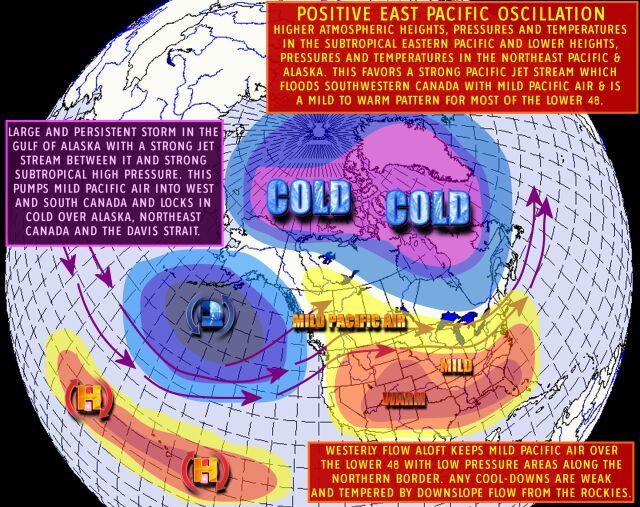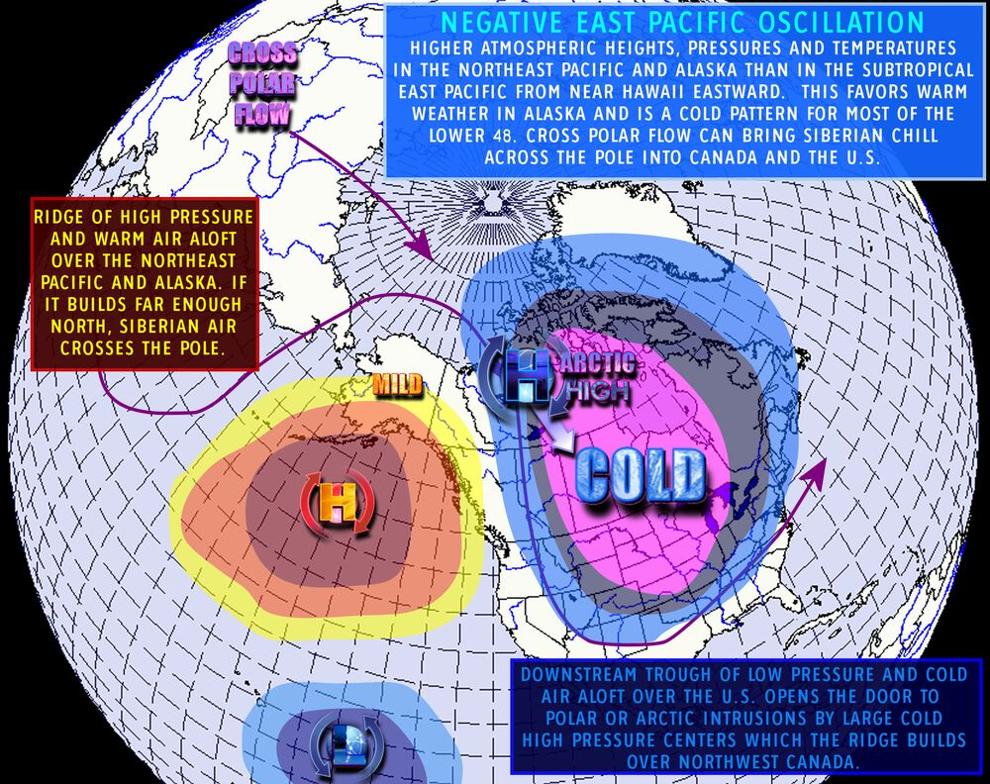 Think of the jet stream as a water bed. When you push down on one side, you get the OPPOSITE reaction on the other. The trough across the eastern Pacific "forces" ridging and warmer weather to develop toward the central and eastern U.S. in a positive EPO pattern. You can see this result quite well looking at the longer-range GFS 500mb heights. Blue = trough/cold air, orange = ridging/warmer air.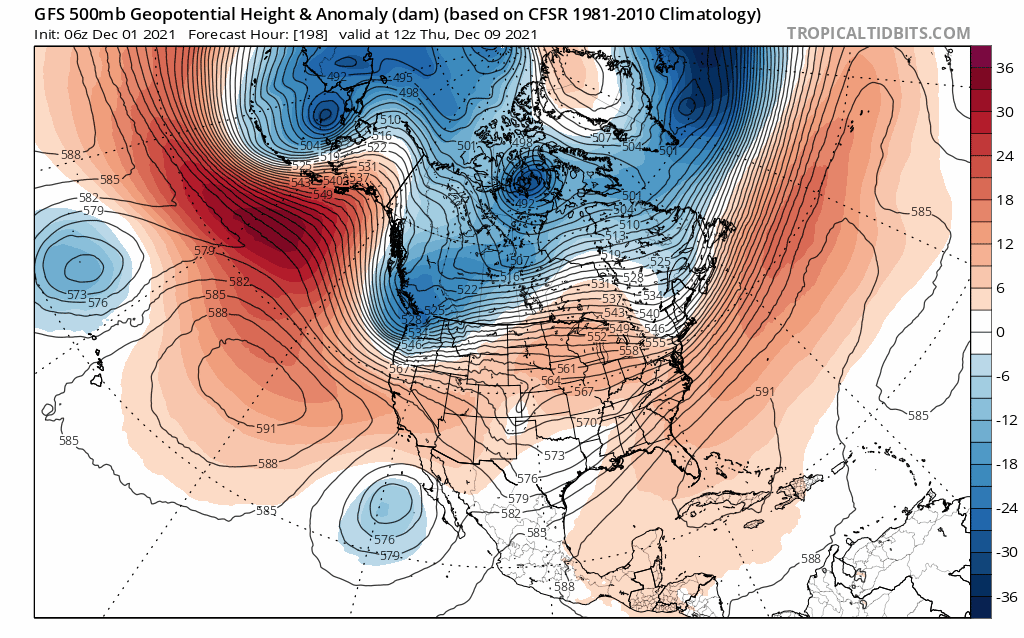 The NAO is essentially stuck in the positive phase. This often leads to above normal temperatures in the eastern U.S. Any cold air events are often limited in duration and extent due to a fast-moving jet stream across the North Atlantic. The negative phase features a slower jet stream across the North Atlantic. In this case, a "buckle" in the jet stream of cold air often develops into the Eastern U.S. Based on the forecast of a positive NAO ahead, this is not favorable for "sustained" cold and snowy weather.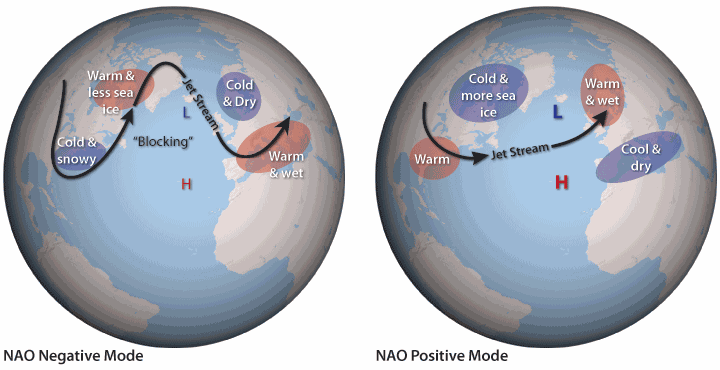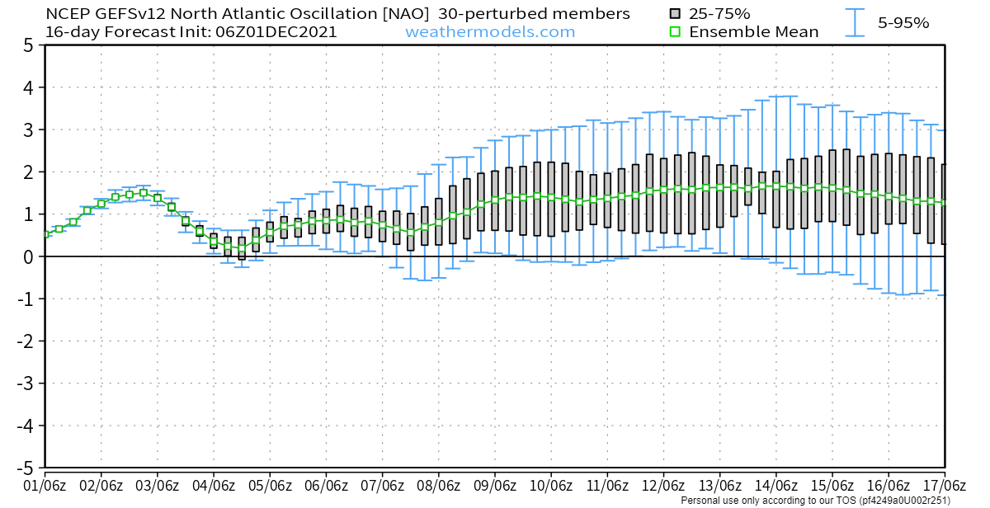 Another interesting tool is the MJO (Madden Julian Oscillation). Currently, the MJO is in phase 6. The forecast suggests we move into phase 7 next week, then may work back into phase 6 heading closer to mid-month.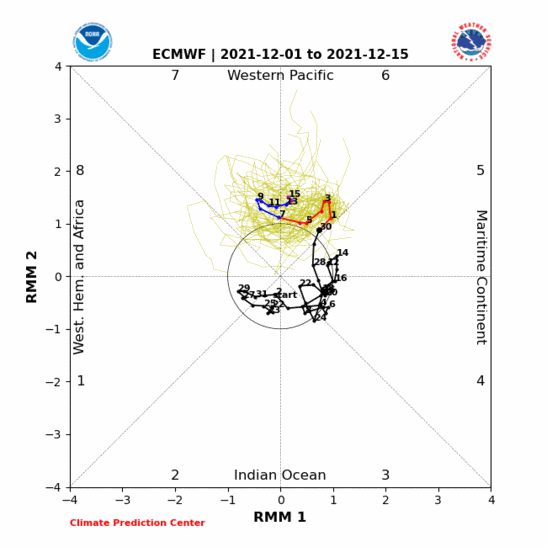 What does that even mean? The different phases give us different results in the weather at different times of the year. The current phase (phase 6) favors warmth over most of the country. Phase 7 (forecast for next week) favors colder weather. Based on the forecast, this would suggest a window of colder weather next week, then a flip back to warmer weather when we go into phase 6 again. The thinking is we may eventually get into phases 7 and 8 toward late month, a signal for cold weather.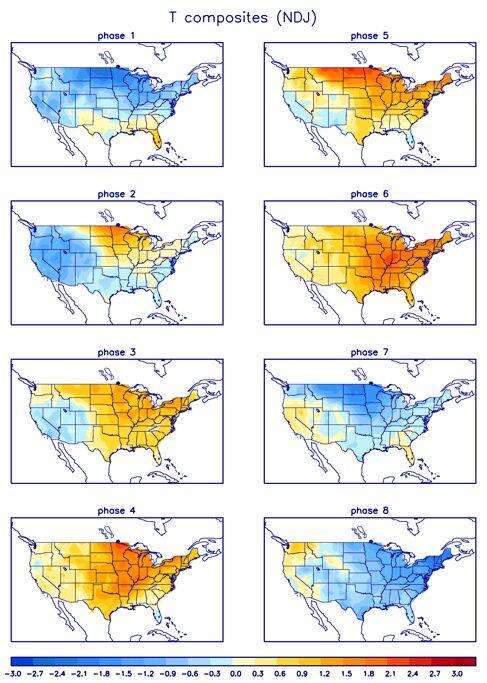 Let's see what some of the computer models are showing over the next few weeks. I think the CFS model is overcooking our temperatures, but it has the idea of a warmer set-up for mid-December.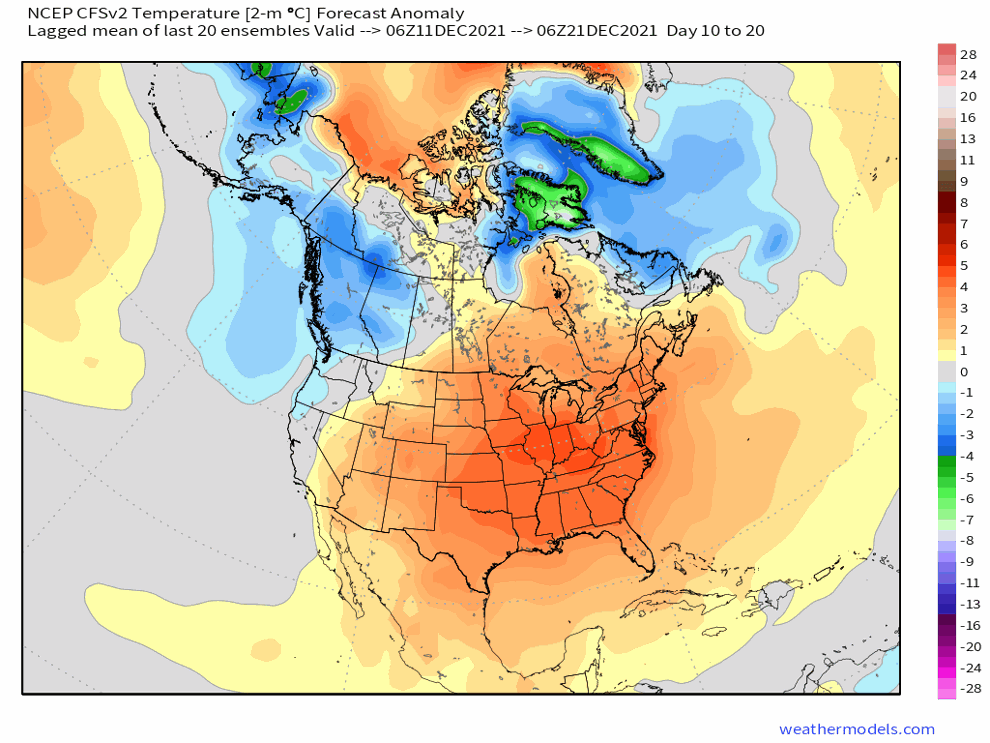 However, it shows a pretty stark transition to cooler weather around Christmas into the New Year.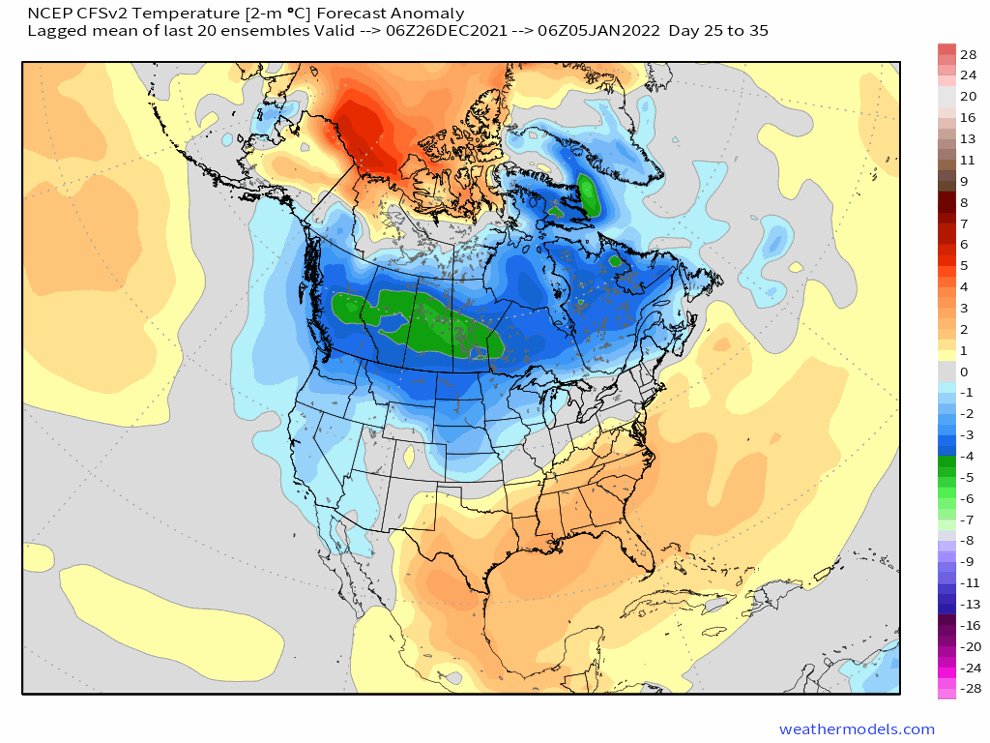 The GFS long-range shows the same thoughts of a mild mid-month, then it really unloads the cold for the tail end of the month! That would certainly be an interesting look getting into the New Year.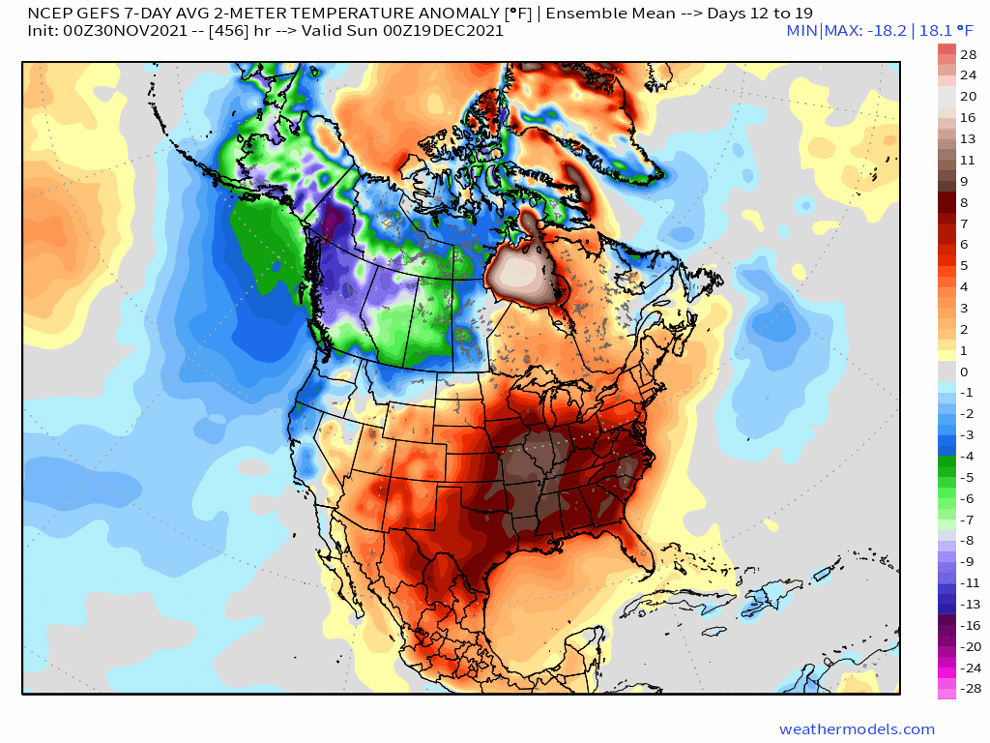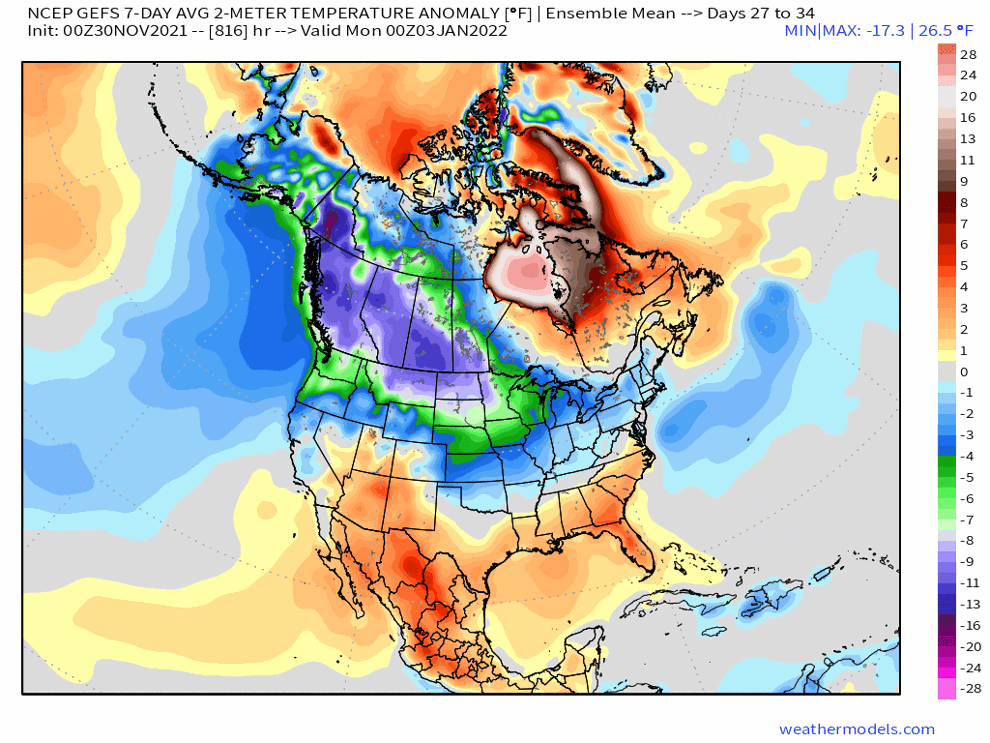 The long-range version of the European model also shows a similar theme with a mild mid-month, then a flip closer to normal temperatures later in the month. Here are the main takeaways from this post:
-Watch for a colder period next week with possible snow system.
-Mild stretch appears likely beyond December 10th, possibly well through the mid-month.
-Increased odds for colder air and snow chances by Christmas into the New Year.
Remember, NOTHING is set in stone. These indices could adjust, but this is an overview of how different teleconnections have a hold on our weather trends.