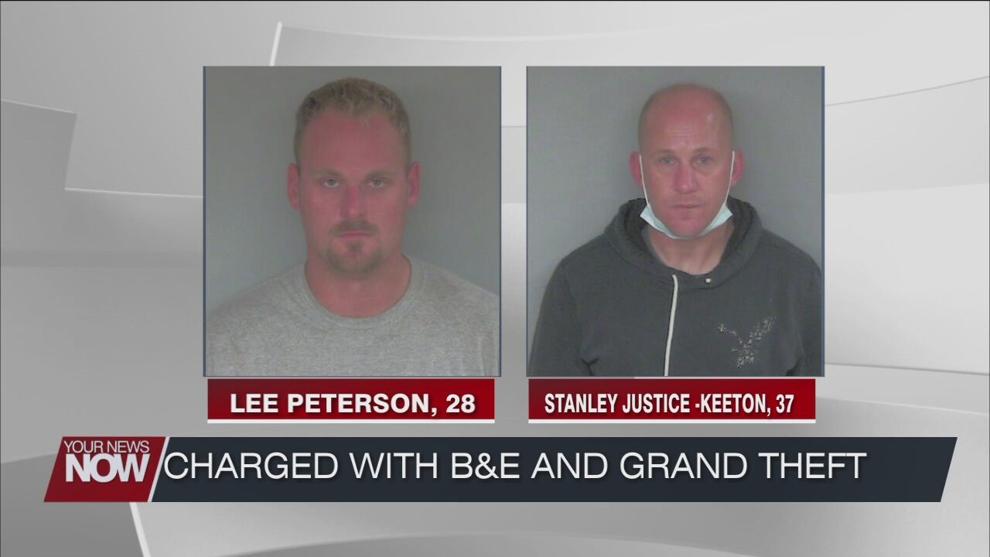 Two men get caught with stolen merchandise in Mercer County and could be responsible for numerous thefts in Indiana and Ohio.
Lee Peterson and Stanley Justice-Keeton, both from Muncie, Indiana were arrested last week and charged with Breaking and Entering and Grand Theft. On November 25th just before midnight, the Mercer County Sheriff's Office got an alarm from a farm implement dealer in Coldwater. When deputies arrived, they found a Gator was stolen, another deputy saw a pick-up truck pulling a trailer with a gator on it on the west side of the county. Peterson and Keeton were arrested, and deputies determined that the trailer was stolen from a place in Muncie. The pair could be tied to other thefts in Ohio and Indiana. Both men are being held in the Mercer County Jail on $100,000 bonds.
Media Release from Mercer County Sheriff's Office 11/30/2020: Mercer County Sheriff, Jeff Grey reports the arrest of two (2) individuals for Breaking and Entering (Felony 5) and Grand Theft (Felony 4).   Grey advised that his office received an alarm on 11-25-2020 at 11:57 PM from 5228 St Rte. 118 Coldwater, Ohio (Lefeld Implement).  Grey advised that deputies from his office responded to the alarm and when they arrived, realized that a John Deere Gator (ATV) was missing.   The deputy advised other deputies to be on the lookout for this gator.   Grey advised that Deputy Kyle Fink spotted a white truck, pulling a flatbed trailer with a new John Deere Gator on the trailer on St Rte. 219 near St Rte. 49.   Grey advised that deputies had received a "Bulletin" earlier in the day from Decatur, Indiana Police Department advising local agencies to be on the lookout for a white truck, that stole a trailer in their city.   With this information, a Deputy Fink stopped the truck and confirmed that the gator was stolen from Lefeld Implement and confirmed the trailer was the stolen trailer from Decatur,  Indiana. 
The two suspects were arrested and taken to the Mercer County Jail, where they are currently being held on a $100,000.00, bond (10%) that was set by Celina Municipal Court Judge, Kathryn Speelman.
Arrested was 28 year old Lee M Peterson of 4310 S Burlington Drive Muncie, Indiana as well as 37 year old Stanley Justice – Keeton of 1404 S May Ave Muncie Indiana.  Grey advised that his deputies / detectives have also received information that there are many other thefts that have occurred in other jurisdictions in Ohio and Indiana, Grey stated that his deputies / detectives are sharing their information with the other jurisdictions in hopes of recovering other stolen property. 
Mercer County Prosecutor, Matt Fox assisted with reviewing the case and prepared charges early this morning.  
Grey advised that with local agencies sharing information and the deputies being vigilant, they were able to apprehend these individuals.  The investigation is continuing.