In the coming weeks, Your Hometown Station will be changing the location of where we broadcast our signal. Our current location of transmission is located at 1424 Rice Ave. Lima OH 45805. When we transition to transmit from our new location, over the air viewers may need to adjust the direction of their antenna to better receive the signal. Our new transmission site is located in the 1000 block of St Clair Avenue on the north side of Lima.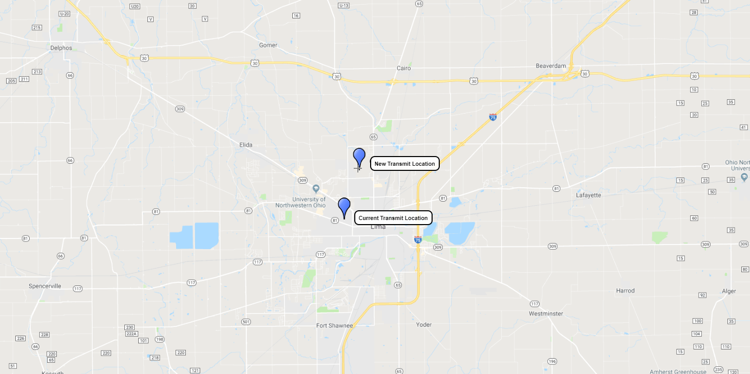 Along with the move in transmit location, our ABC and CBS stations will be changing their frequency. This means that individuals who receive our signal over they air will have to re-scan their television sets to pick up the new placement of those channels. 
Why do I need to make these changes?
The F.C.C. commenced the first-ever "incentive auction" on March 29, 2016. It was designed to re-purpose spectrum for new uses.
Authorized by Congress in 2012, the purpose of the auction is to reassign television channels 38 to 51 to wireless services providing video and broadband services. All stations in channels 38 to 51 were requested to move to channels 2 to 36. (Channel 37 is used for astronomy research. There are No TV stations on channel 37.) To accomplish this; it was necessary not only move stations from channels 38 to 51 down, but also move stations in channels 2 to 36 to better locations to accommodate the move from above. WOHL, Lima OH, was identified as a station needing to move. The F.C.C. requested WOHL to move from channel 35, to channel 15. WLIO was not asked to move, and remains on channel 8.
To accommodate the move, the licensees of stations WOHL-CD and WLIO-DT built a new transmission facility located 2.1 miles north-northeast of our present location. The exact location is the very west end of St. Clair Street off West Street. The move to this location may, or may not affect your over the air reception. The move, and WOHL's channel change, does not affect viewers of our signal on cable, satellite, or via the Internet. The following pages of this book will help you get the most out of Over the Air reception.